To:

Residents of the City of Detroit
CALL CITY COUNCIL IF YOU WANT SAFE FOOD!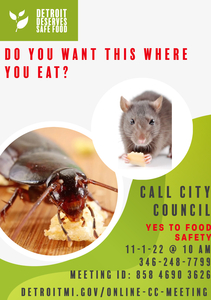 Detroit Resident's Public Health Matters!
The Restaurant Grading Ordinance would grade Detroit restaurants with colors letting diners quickly know how the establishment performed during its latest health inspection with a placard in the window showing results of the last health inspection.
The policy, the first of its kind in Michigan, would have three color grades:
- Green would indicate compliance
- Yellow shows the restaurant has been placed into the enforcement process and violations found from multiple inspections.
- Red shows closure of restaurant due to noncompliance.
QR codes on the placard would link to the health inspection reports. The public deserves knowing if the food they are eating is safe. They also deserve to know if the restaurant is safely handling their food.
We deserve to have standards as high as other major cities such as New York, Los Angeles, San Diego, San Francisco, Columbus, and Pittsburgh which also use a grading system.
Why is this important?
Detroit Residents,
Please participate in public comment during Detroit City Council Formal Session, on Tuesday, November 1 at 10:00 A.M. to voice your support for the Restaurant Grading Ordinance. We believe that Detroit Deserves Safe Food and want to protect our community and businesses.
1. In Person
a. You can attend in person at the Committee of the Whole Room (13th floor) in the Coleman Young Municipal Center.
2. Call In/ Virtual Attendance
To attend by phone only, call this number:
i. +1-346-248-7799 and Enter Meeting ID: 858 4690 3626
ii. Raise your hand by pressing *9
b. To attend online, please use the following link:
i. https://Detroitmi.gov/Online-CC-Meeting
ii. Raise your hand by clicking raise hand in the application or pressing
1. Windows computer = [ALT] + [Y]
2. Apple computers = [OPTION] + [Y]
3. Email
a. Send your public comment to the City Clerk's email: [email protected]
1. Myth: Extra and Unnecessary Costs.
1. Fact: This ordinance imposes no new costs for operators
There are penalty fees currently in our enforcement process.
2. Myth: Signs are misleading and confusing
2. Fact: Signs have colors and QR codes that take the reader to a page that explains inspections.
3. Myth: Health Department doesn't have capacity to provide timely inspection turnarounds.
3. Fact: The changes will not affect inspection times Health Department conducts follow-up inspections no later than 2-4 weeks after the routine inspection.
4. Myth: Unfair Disadvantage with Mobile Food Vendors
4. Fact: Restaurants do have a competitive advantage by receiving a green sign. The sign helps strengthen public confidence in the sanitary conditions of the food establishments and helps attract more customers.