To:

The U.S. Senate and U.S. House of Representatives
Impeach anti-abortion judge Matthew Kacsmaryk!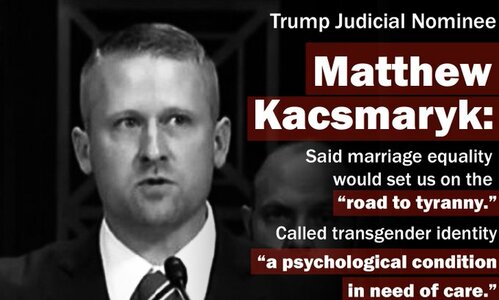 Congress must investigate and impeach Matthew Kacsmaryk, the Trump-appointed judge who is abusing his position to pursue an anti-abortion crusade as part of his right-wing agenda.
Why is this important?
Matthew Kacsmaryk just issued a national ban on mifepristone, a drug that for 20 years has been a source of safe, effective abortions. This right-wing judge, with deep ties to the Federalist Society, has pursued a right-wing agenda since appointed by Donald Trump. His professional history reflects his crusades against health care, autonomy, freedom, LGBTQ+ equality and more.
He is basing his unprecedented decision on his own right-wing religious views, deep partisanship, and personal crusade against abortion access. These are not how our freedoms can be treated. Congress needs to remove him immediately.