To:

The University of Florida: The Board of Trustees, President Fuchs, and Provost Glover
University of Florida: People Over Profit, End F2F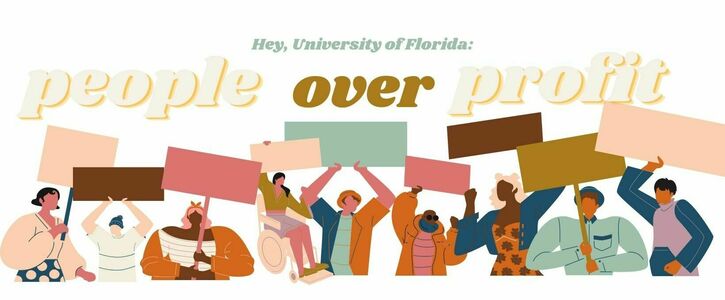 Until the the University of Florida meets our demands, the undersigned will be taking the following actions in protest:
- Halting any charitable alumni donations to UF or UF-associated foundations
- Boycott wearing any "Gator-Gear," including UF sports teams or any items with the UF insignias
- Boycott all UF sports teams, including ticket sales, streaming, and attendance
- Boycott PepsiCo products, including Gatorade brand beverages
Our Demands:
1. Stop in-person, face-to-face classes at the University of Florida immediately
2. Provide/ensure hazard pay for any employees required to work on campus
3. Approve all employee ADA accommodation requests
4. Remove the "tattle button" from the UF GatorSafe app
5. Stop all intimidation tactics against employees who disagree with spring semester format
6. Secure and distribute vaccinations to all employees before returning to an in-person semester format
Why is this important?
It is an embarrassment to the city of Gainesville, education professionals, UF alumni, and higher education that the nation's #6 public university is fighting against basic human rights. UF's treatment of their employees is garnering national attention. The university has chosen profit over people, consistently refusing to listen to the protests of their employees.
In addition to creating an unsafe work environment, the University of Florida is violating workers' rights by refusing a majority of ADA accommodations. Furthermore, these policies are disproportionately affecting BIPOC and vulnerable community members.