To:

Debate moderators Chris Wallace, Steve Scully, and Kristen Welker
We need a climate change segment for all the presidential debates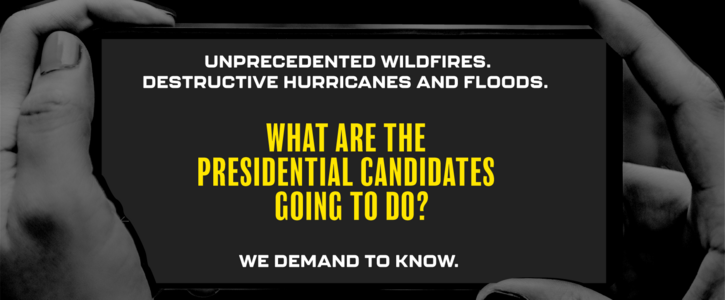 My name is Anisa Nanavati, and I am the North American Continental Coordinator of Earth Uprising, a youth-led climate justice movement. As youth, we will bear the greatest impacts of climate change, and we refuse to stay silent while our future is destroyed.
We have unprecedented wildfires, droughts, flooding, and hurricanes devastating communities across the United States, and the are disproportionately affecting people of color.
Presidential candidates must be challenged during the very first presidential debate to describe how they will decrease and reverse the impacts of climate change. We demand that Chris Wallace, Steve Scully, and Kristen Welker include a segment about climate change.
The time for climate justice is now!
Update: We won on the first presidential debate and Chris Wallace gave an 11 minute segment on climate change. We are now demanding that all presidential debates in 2020 have a segment on the climate crisis.
Why is this important?
The climate crisis is at our doorstep, and presidential candidates must speak to how they will stop and decrease the impacts of climate change going forward. Chris Wallace included two question on the climate in the first presidential debate, and believe all debates going forward must include a similar segment.
Hurricane Laura, a Category 4 hurricane, ripped apart the coastline near Lake Charles, LA, barely missing major metropolitan areas like Houston, TX, and New Orleans, LA. Massive, powerful, and destructive hurricanes are becoming the norm—and we haven't yet reached the end of the 2020 hurricane season.
Wildfires are currently burning across the entire West Coast, from California to Oregon and Washington. Entire communities are being displaced or destroyed, people are dying, and millions had to experience apocalyptic orange skies from the smoke and soot. The air quality in cities like Portland, OR, has been abysmal. According to the Environmental Protection Agency, any level above 300 on the air quality index is hazardous, and anything above 500 is off the charts. Portland has faced days where the air quality index reached 516. Firefighters—including crews of state prison inmates, who earn as little as $6 a day—are working in extreme temperatures and perilous conditions to battle the fires.
And so many of these repercussions from the climate crisis happen during a global pandemic that has killed close to 200,000 people in the U.S. The impact of climate change on coronavirus transmission is still being explored, but researchers already believe that people are more likely to die from COVID-19 when exposed to poor air quality.
We are seeing the tragic reality of the climate crisis of our generation.
The climate crisis is disproportionately hurting communities of color and low-income communities. We are already seeing this with frontline communities breathing in toxic air, including in Philadelphia, PA, and consuming toxic water, in communities that include Flint, MI. We are seeing this with the farmworkers in California breathing in toxic air as they supply food for American families.
Not only that, but the federal government, states, and localities are facing the economic consequences of climate change. Entire cities and communities are being threatened and damaged. Hurricane Laura is estimated to have caused $25-30 million in damage, and the financial impact of the West Coast wildfires is predicted to be close to $20 billion.
The financial, human, and wildlife cost of climate change is incalculable.
Climate change, racial justice, and economic justice are all inextricably tied.
So we must act now. The climate crisis is here, and we, our politicians—and our future president—have to take action in order to mitigate its impact.
That is why it is essential that candidates for president speak to this urgent issue. In 2016, the national presidential debates did not include any questions on the climate crisis.
The Democratic candidates were eventually asked about climate, thanks in part to petitions like this one. Omitting a conversation on the climate crisis from the presidential debates absolutely cannot happen again this year, when a historic election is underway.
Let's collect as many signatures as we can on this petition and make sure our voices are heard.
We are asking Chris Wallace, Steve Scully, and Kristen Welker, the moderator for the presidential debates between Joe Biden and Donald Trump, and major news media networks to include a substantial segment on climate justice. Both presidential candidates must directly address what they plan to do in order to decrease the impact of climate change on this country and the world.