To:

President Joseph R Biden Jr.
Emergency Relief for Cuba / Ayuda de emergencia para Cuba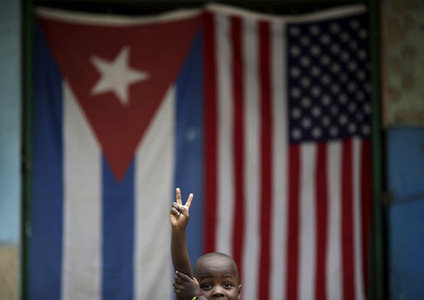 Emergency relief for Cuba - Repeal the sanctions
(El texto en español sigue al texto en inglés)
This week's eruption of demonstrations in Cuba clearly represents the pain and frustration of the Cuban people who have long suffered under the economic crisis brought on by the 60-year US blockade and exacerbated most recently by the worldwide Covid pandemic and climate change.
We call on President Biden to take these immediate steps
1. Re-open the US EMBASSY in Havana so that the normal
processing of visas may commence and a channel for
dialogue is established
2. Allow for the immediate shipment of syringes and relief
aid so that vaccines in Cuba can be administered and
other foodstuffs and necessities can be delivered
3. Restore the ability for families to send money to their
relatives in Cuba
Want to do more?
Use this link to contact your Senators and Representatives and urge them to pressure Biden to provide relief to Cuba:
https://oneclickpolitics.global.ssl.fastly.net/promo/3XL
****
Ayuda de emergencia para Cuba -Derogar las sanciones
El estallido de manifestaciones de esta semana en Cuba representa claramente el dolor y la frustración del pueblo cubano, que lleva mucho tiempo sufriendo la crisis económica provocada por los 60 años de bloqueo estadounidense y exacerbada más recientemente por la pandemia mundial de Covid.
Creemos que Estados Unidos puede desempeñar un papel positivo para evitar que nuestros amigos y familiares en la isla sigan sufriendo sin que se produzca una escalada del conflicto, una intervención militar o encubierta o cualquier otra intervención en los asuntos soberanos de Cuba.

Pedimos al presidente Biden que tome estas medidas inmediatas
1. Reabrir la EMBAJADA de EE.UU. en La Habana para que
se inicie la tramitación normal de visados y se
establezca un canal de diálogo
2. Permitir el envío inmediato de jeringuillas y ayuda de
socorro para que se puedan administrar las vacunas en
Cuba y entregar otros alimentos y productos de primera
necesidad
3. Restablecer la posibilidad de que las familias envíen
dinero a sus parientes en Cuba
¿Quieres hacer más? Utilice este enlace para contactar con tus senadores y representantes y les instes a quepresionen a Biden para que proporcione ayuda a Cuba.
Why is this important?
After the overtures made during the Obama administration to restore diplomatic relations with Cuba, the Trump administration reversed course adding 243 new sanctions that block bank loans, prohibit imports of basic necessities, bar travel between the US and Cuba, and no longer allows US citizens to send remittances to their families in Cuba.
The international community's vote taken on June 23 in the United Nations' General Assembly 184 - 2 overwhelmingly called to end the blockade of Cuba. Elected officials in dozens of municipal and state governments across this country have also joined this call to normalize relations and advance the diplomatic relations initiated under Obama. Restoration of normalized relations is good for business, for exchange in advances in medicine, cultural exchange and a restoration of family relations. We further call on the Biden/ Harris administration to fast-track normalizing diplomatic relations between Cuba and the United States and join the global community in recognizing the failure of the blockade as a solution or substitute for meaningful dialogue.
We appreciate you taking the time to sign and share this petition. ***
Después de las insinuaciones hechas durante el gobierno de Obama para restablecer las relaciones diplomáticas con Cuba, el gobierno de Trump dio marcha atrás, añadiendo 243 nuevas sanciones que bloquean los préstamos bancarios, prohíben las importaciones de productos de primera necesidad, prohíben los viajes entre Estados Unidos y Cuba, y ya no permiten a los ciudadanos estadounidenses enviar remesas a sus familias en Cuba.
La comunidad internacional votó el 23 de junio en la Asamblea General de las Naciones Unidas 184 - 2 de forma abrumadora para poner fin al bloqueo de Cuba. Funcionarios electos en docenas de gobiernos municipales y estatales en todo el país también se han unido a este llamado para normalizar las relaciones y avanzar en las relaciones diplomáticas iniciadas bajo Obama. El restablecimiento de las relaciones normalizadas es bueno para los negocios, para el intercambio en los avances de la medicina, el intercambio cultural y el restablecimiento de las relaciones familiares. Además, hacemos un llamamiento a la administración Biden/Harris para que acelere la normalización de las relaciones diplomáticas entre Cuba y Estados Unidos y se una a la comunidad mundial en el reconocimiento del fracaso del bloqueo como solución o sustituto de un diálogo significativo.
Le agradecemos que se tome el tiempo de firmar y compartir esta petición. ¿Quieres hacer más? Te animamos a que te pongas en contacto con tus senadores y representantes y les instes a que presionen a Biden para que proporcione ayuda a Cuba.
How it will be delivered
This petition is the result of the combined efforts of many support groups from throughout the U.S. and is not directly affiliated with any single group or individual. The coordinators wish to thank CODEPINK for hosting the campaign's *oneclickpolitics* link. The coordinators will deliver your signatures to President Biden at the end of the campaign. More action to follow!