To:

ALEC member corporations
EXPOSED: These corporations fund voter suppression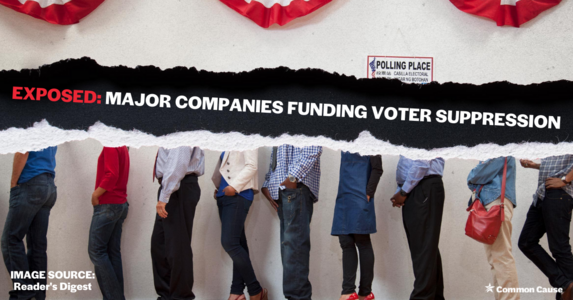 Right now, a far-right corporate lobby group called the American Legislative Exchange Council (ALEC) is wielding its insider power to push Trump's "Big Lie" about the 2020 election and ram dangerous anti-voter bills through target state legislatures.
The fact that some major companies -- including UPS, Anheuser-Busch, and FedEx -- have refused to stop funding ALEC despite this blatant assault on our democracy is shameful. We call on these companies to cut all ties with ALEC immediately.
Why is this important?
GOP lawmakers nationwide -- who are upset that their party lost major elections in 2020 -- are using ex-President Trump's conspiracy theories to pass new laws that make it harder to vote.
In April, UPS released a statement that condemned this widespread attack on our rights and pledged to work with lawmakers to "strengthen our democracy by facilitating equitable poll access." [1]
Why, then, does UPS still fund one of the major right-wing groups pushing these horrific anti-voter laws?
That's right: UPS is one of the many companies that funds the American Legislative Exchange Council (ALEC). And both before and after the election, ALEC has worked around the clock to restrict the freedom to vote, spread vicious lies about the integrity of our electoral process, and undermine American democracy entirely.
ALEC's top figures have been widely pushing Trump's "Big Lie" about the 2020 election in an effort to manipulate the American public. At the same time, ALEC representatives have met with prominent GOP lawmakers -- like Senator Ted Cruz and Senator Rand Paul -- to discuss strategies to restrict voters' rights.
And according to one report -- in 2021 alone, more than 100 ALEC-connected state legislators have been lead sponsors or co-sponsors of anti-voter bills in Georgia, Arizona, Florida, Michigan, Pennsylvania, and Texas. [2]
The fact is: by continuing to back ALEC financially, companies like UPS, FedEx, and Anheuser-Busch are endorsing this modern Jim Crow effort. And they're hoping everyday Americans won't notice.
Over the last few years, we've pushed over 100 major companies to cut ties with ALEC due to its extreme agenda -- and now, we need to keep the public outcry going. Add your name to condemn these corporations' hypocrisy and urge them to stop funding ALEC immediately.
1) https://about.ups.com/us/en/newsroom/statements/ups-supports-equitable-poll-access-and-voting.html
2) https://www.commoncause.org/wp-content/uploads/2021/06/ALEC-anti-voter-letter.pdf