To:

Mark Emmert, Kevin Warren
Formally Reprimand the Iowa Coaching Staff for Mocking the Apparent Injury of an Opposing Player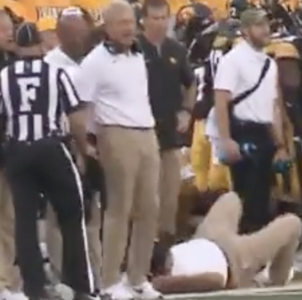 While the viewers of the Fox broadcast of the Iowa versus Penn State game heard and commented on the Hawkeye fanbase "booing" nearly every Penn State injury, there is not much that can be done. And while it may be wrong, it is their prerogative to say as they please, of course, to an extent. However, the perceived frustration toward Penn State's five injuries ran through the Iowa coaching staff as well. It was caught on video, per twitter, that the Hawkeyes' special teams coach LeVar Woods flopped to the ground, mocking the injury of Penn State Defensive End Arnold Ebiketie in the second quarter. This is completely unacceptable. According to the NCAA Division I Manual, article 2.4 of its constitution states: "All individuals associated with intercollegiate athletics programs and events should adhere to such fundamental values as respect, fairness, civility, honesty, responsibility, academic integrity and ethical conduct." Mr. Woods violated this statement, with his actions showing little respect towards a student athlete, and no responsibility as a coach and a leader on the Iowa football team. Furthermore, head coach of the Iowa football team, Kirk Ferentz, commented on the Iowa response to the Penn State injuries. He believed that the fans "smelled a rat", in which he supported the heckling and mockery, and even went as far as to suggest himself that the Nittany Lion players were faking being hurt. It is unacceptable to mock an injury, regardless of the severity, and to assume that a player may be faking it to disrupt game flow is an unsubstantiated claim. Coach Ferentz, Coach Woods, along with the rest of the Iowa staff, need to be formally reprimanded for their actions by either the NCAA or the Big Ten Conference. Respect is one of the fundamental values of both, and to see that come under attack disrupts the foundation of college athletics and what it stands for. Student athletes are not professionals, and do not deserve to be victims to disgusting treatment by others regarding their physical health during competition.
Why is this important?
It's important to sign this petition because there needs to be a refocus in terms of the priorities of college athletics. Part of the NCAA's mission is "ensuring that competition is safe, fair, and sportsmanlike", and physical and verbal mockery is not a way to practice sportsmanship and uphold this mission. The coaches on the sidelines are leaders who the players look to for guidance, and seeing them act in a way that makes fun of an apparent injury is disgraceful and a bad example for everyone.