To:

Governor Larry Hogan
Governor Hogan: Stop the Spread of Covid-19 in Immigrant Detention Centers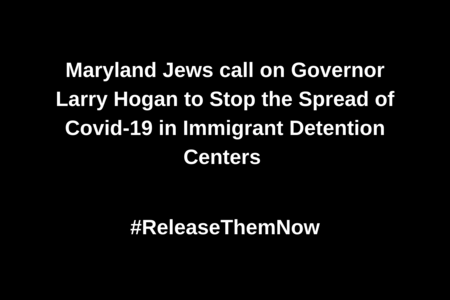 We are writing as members of the Maryland Jewish community and allies to urge you to take immediate action to protect and ensure the safety of immigrants being held in detention centers. Many of us have Jewish ancestors who experienced persecution and inhumane treatment. It's important to us that this does not happen to today's immigrants and refugees. Many Jews in detention centers died during the Holocaust. We believe it is our responsibility to make sure that today's immigrants are treated humanely and have access to medical care, so that today's detention centers do not also become death centers due to the spread of Covid-19.
We believe it is absolutely necessary to take swift action to reduce the risk of a coronavirus outbreak in Maryland detention centers before it is too late. The measures we urge you to take are:
1) Release as many detainees as possible from detention. While we urge you to release all detainees currently being held in Maryland, we hope you'll at least consider releasing those with underlying health conditions or older people who are most susceptible to serious illness or death from the virus. Additionally, people being detained for nonviolent offenses and pre-hearing detainees can be released as they are not proven to be a threat to the community.
2) Stop all ICE raids and additional detentions in the state of Maryland.
3) Make sure that people in detention facilities have access to adequate healthcare and sanitation products and devices (hand sanitizer, showers, soap, sinks, etc.)
Why is this important?
We are very grateful for your proactive, consistent, and effective response to the Covid-19 crisis, and we know it will save many lives in our state. We are asking you to apply that same leadership to decisions affecting some of our most vulnerable residents: undocumented immigrants. As you know, the Coronavirus pandemic poses a serious threat to our communities, and as a result of this virus, people have been staying home, practicing social distancing, and taking measures to maintain good hygienic health. However, immigrant detainees have very little control over who they come in contact with or the cleanliness of their environment.
Although some may believe that isolation from society prevents the threat of COVID-19 in detention centers, this is not accurate. The inadequate sanitary conditions in addition to the close proximity in which people are held means illness can spread like wildfire in detention centers. This is proven by many previous infectious disease outbreaks in detention centers, such as influenza and chickenpox. These outbreaks were very hard to control and caused the death of many men, women, and children.
As one of the first governors to announce the closure of public schools, and as the chair of the National Governors Association, governors across the country are looking to you for moral leadership at this time. We are thankful for the steps you have taken to protect residents across the state, and we urge you to take bold action to protect Maryland's immigrant community, as well.