To:

We Are The People and We Have The Power
I Stand With 400+1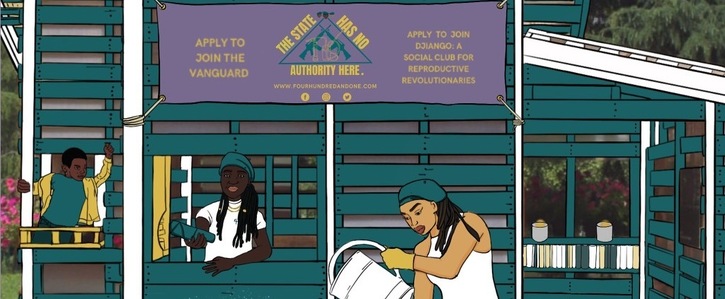 On June 10th, 400+1 launched its reproductive revolution campaign, "The State Has No Authority Here." The campaign began with reproductive revolution workshops that offered instruction to Black communities in Austin, Texas and Capitol Heights, Maryland on how to build the Del-Em (a menstruation extraction device), how to make and safely store baby formula, and basic firearm safety.
On June 18th, 400+1 built and left an autonomous microclinic in the DMV for community use.
On June 24th, after the announcement of SCOTUS's reversal of Roe v. Wade, 400+1 began its 17-state march to do the same in state capitols with abortion bans on the books.
On June 26th, 400+1 was arrested by Phoenix Police Department while attempting to erect a microclinic in Arizona. Njera and Kristina were informally charged with multiple felonies and 400+1 is now focused on winning their legal battle against the state, so that they might return to their efforts to secure reproductive healthcare for poor, Black communities.
Recent legal developments have contributed to a political environment in which autonomous responses to reproductive oppression are more necessary than ever before. Activists, organizers, and revolutionaries deserve to live in a world in which their efforts to resource their communities in the face of these developments are not criminalized. For those who admire and appreciate these efforts, it's important to contribute to a general culture of support that will, ultimately, create a more hospitable environment for those who have the capacity to fight.
The struggle for reproductive autonomy is a benefit to universal equity. Sign the petition and send a strong message of solidarity with reproductive revolutionaries!
Why is this important?