To:

Supervisor Ronen, Planning Commissioners and Board of Supervisors,
Oppose "La Muerte" de la Mision (The Death of the Mission) - Luxury Development on 22nd & Mission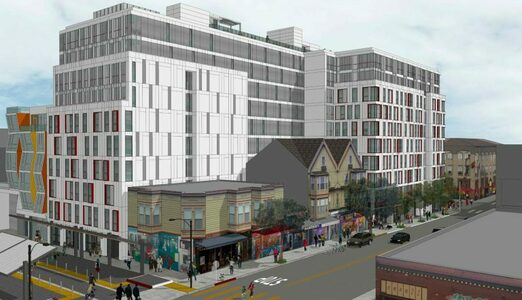 Oppose the new proposed 148-unit, 8 story luxury development at 2588 Mission St. @ 22nd A major fire destroyed the original iconic building killing 38 yr. old Mauricio Orellana, injuring 6 residents, displacing 60 residents, and destroying 26 small businesses in 2015.
A new proposal is out and it's much bigger! It's now 181 unit, 10 story luxury development. It was updated in 2022.
Why is this important?
We need 100% affordable in the Mission and we must bring back those that lost their homes and businesses in the fire.
This proposed development goes against planning's efforts of creating race and social equity in planning and development.
Due to the negligence of the landlord, two additional fires diminished the tenant's right to return to minimal. He owns19 properties throughout the bay area.
After many years of promises to sell for 100 percent affordable housing and then silence. The owner is moving forward to develop this site.
This development has been named "La Muerte" de La Mision" (The Death of the Mission) because it will continue the death of the Mission.
Please oppose this project!
Si Se Puede!!
Opóngase al nuevo desarrollo propuesto que pretende construir un edificio de 8 pisos con 148 unidades de lujo, en el 2588 de las calles Misión y 22.
Un gran incendio en 2015 destruyó el edificio icónico que originalmente se encontraba en ese lugar, matando a Mauricio Orellana de 38 años, hiriendo a 6 residentes, desplazando a 60 residentes y destruyendo 26 pequeños negocios.
¿Por qué es importante el oponerse?
En la Misión se necesita vivienda 100% asequible y debemos traer de regreso a quienes fueron desplazados o perdieron sus hogares y negocios en el incendio.
Este proyecto propuesto va en contra de los esfuerzos de planificación para crear equidad racial, social y desarrollo planificado.
Como consecuencia de la negligencia del propietario, dos incendios adicionales quitaron toda posibilidad para los inquilinos de regresar. Este individuo es dueño de 19 propiedades en toda el área de la bahía.
Después de muchos años de promesas de vender para construir vivienda cien por ciento accesible y luego, silencio, ahora, el propietario está planeando ese proyecto de lujo.
Este proyecto ha sido nombrado "La Muerte de La Misión" porque continúa matando a la Misión.
Por favor, opóngase a este proyecto.
Our Mission No Eviction

Calle 24 Latino Cultural District

Trabajo Cultural Caminante
American Indian Cultural District
Instituto Familiar De La Raza

Mission Neighborhood Centers
Plaza 16
United to Save the Mission
Housing Rights Committee

Dance Brigade's Dance Mission
BRAVA! For Women in the Arts
Precita Eyes Muralist
Accion Latina
Save Capp St.

Pacific Felt Factory

Gubio Project

Clarion Mural Project

Media Alliance

Cultural Action Network

Factory 1 Design

Power People Media
SF Lowrider Council
San Francisco Latino Democratic Club
CARECEN SF
Galleria De La Raza
A.N.S.W.E.R Coalition
Tenants and Owners Development Corp. (TODCO)
SF Anti-Displacement Coalition
Faith in Action Bay Area
San Francisco Tenants Union