To:

President Trump
Prioritize the Safety and Health of ALL, Regardless of Immigration Status, in Coronavirus Response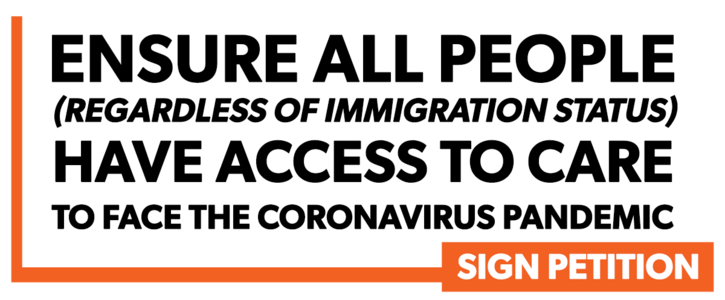 The country's largest, progressive coalition of immigrant rights groups: Community Change Action, United We Dream Action and FIRM Action, come together at this time to demand that the health and safety of every person in the United States, regardless of their immigration status, be prioritized over this administration's xenophobic, white supremacist agenda.
Why is this important?
As the coronavirus continues to spread and cause harm, undocumented families face harsh risks as they seek to care for their loved ones and seek access to health care. Currently, Immigration and Customs Enforcement (ICE), Customs and Border Patrol (CBP), and the U.S. Citizenship and Immigration Services (USCIS) continue to target undocumented people in our community. As a result of fearmongering and misinformation, AAPI individuals in our communities have been harassed, racially profiled, and physically attacked. But now is the time for unity and protection for all our people, regardless of immigration status. We join together to reject xenophobia and racism, which only worsen the effects of the pandemic and put immigrants at harm. Together, we demand that this administration and government at all levels respond swiftly and universally to protect and support everyone, including undocumented immigrants.
We know that this is an evolving situation, but time is of the essence. We must take up solutions that center public health needs and that would immediately have a positive impact on immigrants thereby extending to the health of our nation as we pursue a course of action to "flatten the curve." The following demands are not exhaustive and are likely to expand as we get new information:
Please join with us to demand that President Trump:
Suspend ALL immigration enforcement activities and operations. DHS must suspend deportations, immigration arrests, mass raids, detentions and enforcement in sensitive locations.
Provide Free COVID-19 testing, treatment, and services for ALL, regardless of immigration status. Black, brown, undocumented and low income communities are more vulnerable to health and economic crises. Additional supports and/or stimuli that shore up the safety net and the economic security of those most in need–from food stamps to rent/housing assistance to unemployment insurance to paid leave among others–should be universally accessible without triggering any immigration penalties.
Guarantee safe conditions and provide healthcare, testing and support to protect those in detention and prisons.
Add your name now to ensure all people, regardless of immigration status, have access to care and support to face the COVID-19 pandemic!