To:

Governor Doug Ducey
Tell Governor Ducey: Stop the abortion ban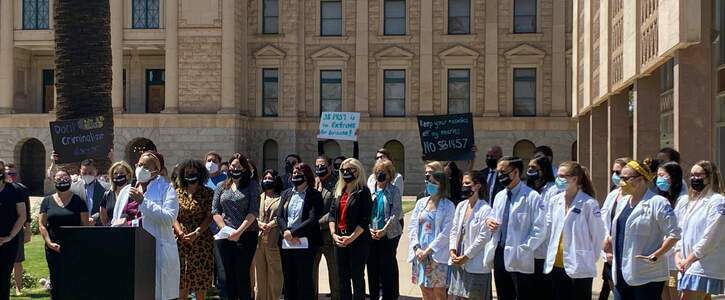 We are calling on Governor Ducey to act on behalf of Arizonans. We ask that you open a special session of the Arizona State Legislature to repeal A.R.S. § 13-3603, a Civil War-era abortion ban, first enacted in 1864. The law is now in effect both as a result of the decision in Planned Parenthood. v. Brnovich and prior efforts to stop its repeal.
Why is this important?
We believe that each of us should have the freedom to decide how and when we start or grow a family, free from political interference or punishment. The statute, A.R.S. § 13-3603, imposes a mandatory two-to-five year prison sentence for providing abortion care. The law will have a devastating impact on Arizona families and our communities.
No one should be forced by the state to carry a pregnancy against their will and face the life-altering consequences of being denied essential health care. We urge you to call a special session immediately, without hesitation, for the purposes of repealing A.R.S. § 13-3603. Any hesitation on the part of your office to call a special session to repeal this outdated abortion ban demonstrates a blatant disregard for the health, wellbeing, and liberty of people who can become pregnant and their families. Thank you, and we look forward to you doing the right thing during this difficult time.
Petition sponsored by:
Abortion Fund of Arizona
ACLU of Arizona
American Association of University Women Arizona
Arizona Birthworkers of Color
Arizona Center for Women's Advancement
Arizona Family Health Partnership
Arizona List
Arizona NOW
Arizona Protect Our Care
Arizona Working Families Party
Asian Pacific Community in Action
Black Political Cultivation AZ
Camelback Family Planning
Central Phoenix Inez Casiano NOW
Desert Star Family Planning
Equality Arizona
Gabrielle Goodrick, MD
League of Women Voters Arizona
LULAC of Arizona
NARAL Pro-Choice Arizona
National Council of Jewish Women Arizona
National Institute for Reproductive Health
Patient Forward
Planned Parenthood Advocates of Arizona
Pro-Choice Arizona
Progress Arizona
Secular AZ
State Conference NAACP
YWCA Metropolitan Phoenix
YWCA Southern Arizona