To:

U.S. Department of Justice
Tell the DOJ: Act on the criminal referral for Donald Trump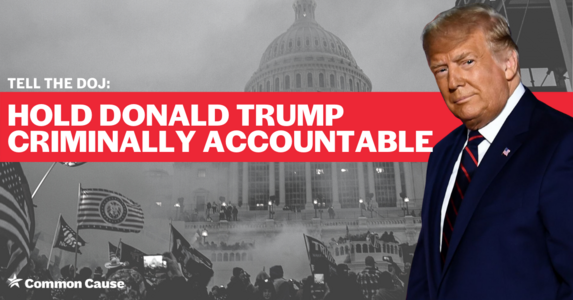 We need accountability for January 6th -- and the evidence produced by the January 6th Committee has been abundant and clear.
Now that the Committee has referred Donald Trump for criminal prosecution, the Justice Department MUST act and hold him criminally accountable.
Why is this important?
Over the last 17 months, the January 6th House Select Committee has worked around the clock to investigate how Trump and his associates planned, promoted, and paid for the January 6th attack on our country – and how he repeatedly refused to lift a finger to stop it.
They've uncovered increasingly shocking evidence demonstrating how Trump and his accomplices plotted to undermine our democracy, pushed dangerous election lies, and even wanted to throw out election results. They documented how Trump planned in advance to falsely claim victory regardless of the actual election results.
Donald Trump brazenly violated his oath of office, and when his lies and conspiracies led to the horrifying and violent attack on our Capitol, he refused to tell the January 6th insurrectionists to stand down for a gut-wrenching 187 minutes.
Now, we have a real chance at accountability – since the January 6th Committee has recommended criminal consequences for Trump's actions.