To:

United States Senate
Join Senator Warnock! Win the Future for Our Children and Democracy!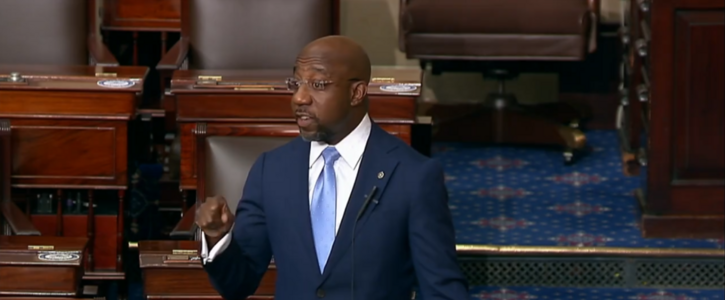 Following the Shelby County decision seven years ago, several states passed sweeping voter suppression laws that disproportionately prevent the poor from voting. State legislators have introduced more than 160 bills in 2021 to further restrict voting for poor, elderly, youth, and minority persons. In response, the Senate has two bills up for consideration: For the People Act and the John Lewis Voting Rights Advancement Act.
We agree with Senator Raphael Warnock who stated in his Maiden Floor Speech and call to action on March 17th (which can be viewed at https://www.c-span.org/video/?c4952332/senator-raphael-warnock-maiden-floor-speech),
"I say let's get this done no matter what. I urge my colleagues to pass these two bills:
• To strengthen and lengthen the cords of our democracy;
• Secure our credibility as the Premier voice for freedom loving people and Democratic movements all over the world; and
• Win the future for all of our children."
We urge the entire Senate to vote in favor of these two bills, the For the People Act (S 1) and the John Lewis Voting Rights Advancement Act.
Why is this important?
I present this petition as President and Co-Founder of ButterflyPAC, a super PAC that advocates to end poverty and hunger. We agree with Charles Blow who writes, "We are witnessing attempts to use poverty and disadvantage as tools to silence voices. It is a further dehumanizing and delegitimizing of the poor."
That is why we are advocating for passage of the For the People Act and the John Lewis Voting Rights Advancement Act.
The For the People Act will:
• Expand voting rights;
• Change campaign finance laws to reduce the influence of money in politics;
• Limit partisan gerrymandering; and
• Create new ethics rules for federal officeholders.
The John Lewis Voting Rights Advancement Act:
• Establishes a targeted process for reviewing voting changes in jurisdictions nationwide, focused on measures that have historically been used to discriminate against voters;
• Allows a federal court to order states or jurisdictions to be covered for results-based violations, where the effect of a particular voting measure (including voter ID laws) is to lead to racial discrimination in voting and to deny citizens their right to vote;
• Increases transparency by requiring reasonable public notice for voting changes;
• Allows the Attorney General authority to request federal observers be present anywhere in the country where there is a serious threat of racial discrimination in voting;
• Revises and tailors the preliminary injunction standard for voting rights actions to recognize that there will be cases where there is a need for immediate preliminary relief;
• Increases accessibility and protections for Native American and Alaska Native voters.
Senator Warnock stated at the end of his speech, just before he received a rare standing ovation from those in the Senate Chamber, "As a man of faith, I believe that democracy is a political enactment of a spiritual idea – the sacred worth of all human beings, the notion that we all have within us a spark of the divine and the right to participate in the shaping of our destiny. Reinhold Niebuhr was right. Humanity's capacity for justice makes democracy possible, but humanity's inclination to injustice makes democracy necessary." We could not agree more.