To:

President Biden, Congress, and the Department of Health and Human Services
Abortion Is Health Care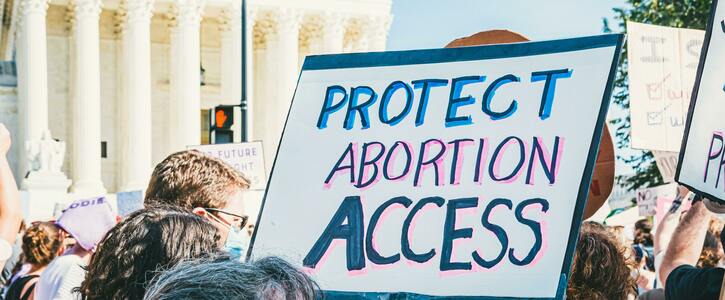 The Supreme Court's ruling in Dobbs v. Jackson Women's Health Organization has officially overturned Roe v. Wade. Access to safe, legal abortion is access to vital health care—and we need those in power to take action now to ensure accessible, high-quality health care to everyone in America.
Why is this important?
Health care is a human right.

Republicans have been increasingly supporting radical positions on eliminating abortion to gain support across the nation, but this shouldn't be an issue of red vs. blue—this is an issue of restricting access to health care for millions. Accessible and affordable health care is already limited in our country, and losing access to vital reproductive healthcare is just going to put more individuals and communities in danger. These bans impact marginalized communities the most, and we need public health officials to step in and take action to protect and expand access to abortion and broader reproductive health now.
In 2021, the Department of Health and Human services took action and announced new resources to protect abortion patients and providers in Texas after the tragic passing of SB8. Unfortunately, at the same time, other states have been inspired by Texas's limitations to abortion and by bans increasing across the country. Right-wing justices on the Supreme Court officially overturned Roe v. Wade, which is why it's crucial that President Biden and HHS take action to prepare for the worst—and protect access to safe abortion for all.
Sources:
1. "What's Happening With Abortion Legislation in States Across the Country," The New York Times, April 14, 2022
https://www.nytimes.com/article/abortion-laws-us.html

2. "Minority women most affected if abortion is banned, limited," Associated Press, February 1, 2022
https://apnews.com/article/abortion-us-supreme-court-business-health-race-and-ethnicity-3fff455cce7ef0d8694f5371f805ea18

3. "The negative health implications of restricting abortion access," Harvard T.H. Chan School of Public Health, December 13, 2021
https://www.hsph.harvard.edu/news/features/abortion-restrictions-health-implications/
4. "HHS Secretary Xavier Becerra Announces Actions to Protect Patients and Providers in Response to Texas' SB 8," U.S. Department of Health and Human Services, September 17, 2021
https://www.hhs.gov/about/news/2021/09/17/hhs-secretary-xavier-becerra-announces-actions-protect-patients-and-providers-response-texas-sb.html

5. "Roe v. Wade's future is in doubt after historic arguments at Supreme Court," NPR, December 1, 2021
https://www.npr.org/2021/12/01/1060508566/roe-v-wade-arguments-abortion-supreme-court-case-mississippi-law