To:

University at Buffalo Students
End UBSA Club Recognition Policy Now!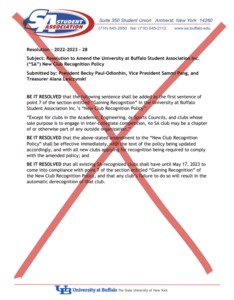 A resolution passed on March 27th by senate members of UBSA requires all special interest clubs, except for clubs in the Academic, Engineering, and Sports Councils, to sever ties to any and all outside chapters and organizations. Clubs affected by this policy have until May 17th to make this change or become derecognized by SA, forfeiting club budgets.
Clubs leaders of Special Interest clubs such as Amnesty International, Islamic Relief Buffalo, UB UNICEF, Circle K, and PULSE feel the amendment disproportionally hurts humanitarian and service-orientated clubs at the University at Buffalo who rely on the organizations that we are connected to. Being backed by a reputable organization not only serves as a resume builder for members and provides greater credibility to clubs when reaching out to form coalitions with the greater Buffalo community, but it also acts as a framework for events. Additionally, many clubs receive various resources outside of financial support such as research, event access, and networking that they can now longer receive if they are not a chapter.
Forcing clubs associated with outside organizations -- specifically organizations that are dedicated to making our campus a more diverse and inclusive space -- is not a solution to preventing the spreading of hate on campus. Affiliation with our parent organizations and their reputation provide a space that students can recognize as safe that seeks to uplift marginalized communities on campus.
Furthermore, there has been a lack of transparency throughout this process. UBSA has expressed that "extensive research was done" before this policy was passed, however, many of the clubs most affected by this policy, such as the ones listed previously, were left out of the decision-making process for this amendment. There was no notice beforehand and our perspectives were discounted. Not only were senators provided less than 24 hours to discuss the policy, but club leaders were not informed prior to this policy even being brought to the table. We were not emailed or contacted in any way. Since the passing of this policy we have been in attendance at all senate meetings that have followed, but our demands and concerns have yet to be addressed.
We feel that before any policy be passed regarding the affiliation regarding the affiliation to third-party organizations, there must be a poll taken to account for AS MANY student perspectives as possible. Before the deadline of May 17th is reached, we demand a vote be sent out to students so that we can vote on whether this policy should be passed, and have our voices be heard!
Why is this important?
This resolution acts as an extreme disservice not only to all students involved within a Special Interest club, but also to the boarder campus community of the University at Buffalo.