To:

Arizona Governor Doug Ducey
Listen to Arizonans: Reject political interference in personal medical decisions and veto SB 1457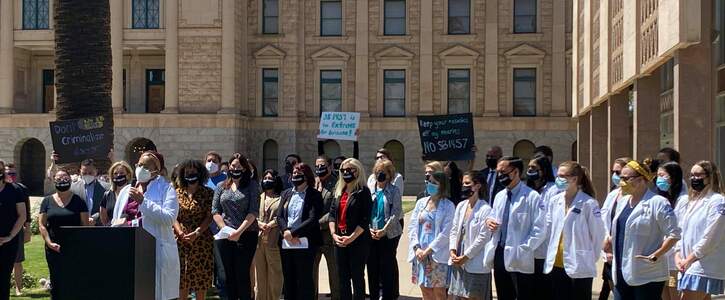 SB 1457 is an extreme bill that would interfere with the doctor-patient relationship and prevent doctors from providing patient-centered care grounded in science and their medical expertise. This is not what Arizonans want or need.
Instead of pushing legislation criminalizing doctors and the essential, life-saving healthcare that they provide, our lawmakers should be focused on the issues that truly matter to Arizonans: delivering COVID-19 relief, protecting the right to vote, and ensuring that every body has the fundamental autonomy to make their own decisions about if, when, and, how to raise a family.

La SB 1457 es una medida extrema que interferiría con la relación de médico-paciente. Impedira que los médicos brinden atención centrada en el paciente, basada en ciencia y en su experiencia médica. Esto no es lo que el pueblo de Arizona quiere o necesita.

En lugar de impulsar una legislación que criminalice a los médicos y la atención médica, que es esencial para salvar vidas. Nuestros legisladores deben centrarse en los temas que realmente le importan al pueblo de Arizona: brindar alivio al COVID-19, proteger el derecho al voto y garantizar que cada cuerpo tenga la autonomía fundamental para tomar sus propias decisiones sobre si, cuándo y cómo criar una familia.
Why is this important?
In addition to threatening doctors with jail time for providing patients with the care they need, SB 1457 would lock into law ideological language defining when "life" begins and ban public education institutions from providing abortion counseling or referrals. Prioritizing this extreme ideological agenda does not align with Arizona values.
Además de amenazar a médicos con penas de cárcel por proporcionar a pacientes la atención que necesitan, la SB 1457 pondira un lenguaje y ideológia permanente que define cuándo comienza la "vida" y prohibiría a las instituciones de educación pública proporcionar asesoramiento o referencias sobre abortos. Priorizar esta agenda ideológica extrema no se alinea con los valores de Arizona.