To:

The United States President, House of Representatives, and Senate
Require police agencies to take reports of missing "adults", regardless of age, when they go missing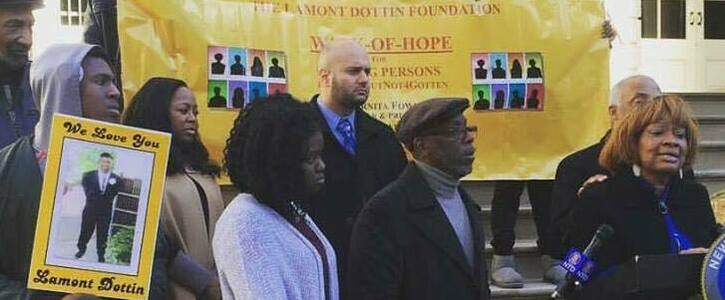 Establish the LaMont Dottin Law to standardize national process that requires "police to take reports of missing adults whenever the adult is reported to be missing". Love has no age limit and neither should the law. Everyone is somebody's loved one...when a loved one goes missing "silence is not an answer and doing nothing is not a solution."
Why is this important?
PETITION PURPOSE:
Missing is missing...their age should not matter because "Love has no age limit and neither should the law". Please sign and tell Congress to "require police to take reports of missing adults whenever the adult is reported to be missing; to make the "LaMont Dottin Law" for missing adults, a national law and requirement. (New York S6437 - passed 2016) .
Why have an age restriction at all when everyone is somebody's loved one?
Reporting requirements for loved ones must extend to all U. S. citizens regardless of age, specifically, adults between ages 21 to 64 who are inadequately protected under the current missing persons laws.
The age restriction results in adult loved ones being unreported, lost and "off the grid", held against their will, murdered, or worst, buried in state's Potter's field without family notification. When is it moral or ethical to protect one group of people while neglecting another based on age? NEVER!!! Please help change how missing person cases are handled across the nation. Your signature will give families hope and encouragement to never give up.
This has been my fight for the past 16 years when my 19 years old son, LaMont Dottin, a freshman at Queens College, disappeared on October 16, 1995, on his way to mail a package. LaMont's body was found floating in the East Hudson River 6 days after he went missing, held in the city morgue for four months, and later buried in a pauper's grave in Potter's Field for fours years. But, this was not known to me as I searched years alone...refusing to give up. Families must be allowed to report adult loved ones, between ages 22-63, when they go missing. I am not the only one.
Research shows that families across the nation are still being denied the right to report adult loved ones as missing and are still searching...alone. According to the national law 42 U.SC. Code 5779(c) a search or investigation will only be launched for ages 21 or under. Again, we ask, why have an age restriction at all when everyone is somebody's loved one?

Please sign as the unreported or "The Missing Missing," (persons not reported) are at higher risk of exploitation than a person who is reported missing. Under current law, the police have no way of tracking the person to their family, as they are not listed in any formal missing database.
BACKGROUND CASES:
CASE 1: Your support can result in immediate search and rescue and eliminates valuable time wasted as in the case of Sierra Shields who went missing January 14, 2016 from LaGuardia Airport, New York. "We The People" along with the Shields' Family believe "it is imperative that the LaMont Dottin Law is passed on a national platform"...as recently signed into Law in New York. "It took almost two days for the NYPD to take my sister's case. Two days of begging them to understand something wasn't right. Two days of pleading with them to do something to help. And now my sister is gone. My sister who loved to laugh and breathed life into the world around her is no longer here. My sister who loved people with not just words but with actions is no longer alive. I grieve, I hurt, I ache and I don't want anyone to ever feel the pain my family now endures. I wish the police would have taken action sooner. If we didn't have to beg and plead and begin our own grassroots effort maybe the circumstances would be different. But the circumstances aren't different and my sister is still gone. When someone goes missing time is of the essence and every moment that goes by feels endless. I cannot express with words the utter pain and anguish I feel for the loss of my dear sweet sister. The LaMont Dottin Law gives me hope that other families will not suffer such a horrific loss. The LaMont Dottin Law empowers families and ensures adult missing person cases will be taken seriously and investigated in a timely manner. I have to wonder if the LaMont Dottin Law was in effect on January 15, 2016, would my sister be alive today? Joy Shields
CASE 2: Your support will also help closed the gap when adults go missing as in the case of Unique Harris. "
On October 9, 2010, two young boys woke up alone. Their mother, 24-year-old Unique Harris, was gone. Unique was last seen on Saturday, October 9, 2010, wearing a white shirt, gray pants, and a sterling silver necklace that was secured with a safety pin at the clasp in the 2400 block of Hartford Street, SE., Washington, D.C.. Since her disappearance, Unique's mother, Valencia Harris, has been looking for her tirelessly with little or no help. She wants her daughter to know that her mother is looking for her and won't give up." "I will look for her with the last breathe in my body." (Copyright 2017 WWBT NBC12. All rights reserved)
*The missing are also at higher risk of becoming a victim of murder or human trafficking…$36M plus business.
THANK YOU
How it will be delivered
In person, email, as well as hold a press conference.