To:

No Labels, a Third-Party Organization
Stop No Labels From Re-Electing Trump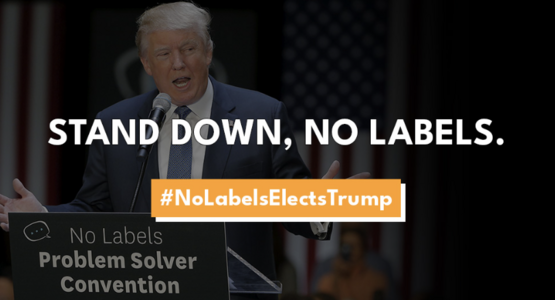 No Labels, a political organization backed by $70 million from anonymous donors, is running a third-party presidential ticket. They will spoil the election for Democrats and put Donald Trump in the White House. We've got to call out their dangerous plan.
Why is this important?
No Labels is running a serious, well-funded third-party presidential ticket in 2024. They are on the ballot already in four states and targeting dozens more for their "unity ticket." But their plan will re-elect Donald Trump. That's why I am joining with other individuals and organizations demanding that No Labels stand down.

A third-party presidential ticket can't win. All of the third party presidential candidates from the last 100 years combined didn't get enough electoral votes to win a single election.

But No Labels will be a spoiler. They are targeting critical Blue states and splintering the coalition of voters who ousted Trump in 2020, giving Trump a second term when he is more dangerous than ever. Trump came within 3 points of winning six key battleground states: Arizona, Georgia, Michigan, Nevada, Pennsylvania, and Wisconsin. Even a weak third-party performance from No Labels could put 79 Democratic electoral votes at risk, handing Trump or a Trump-acolyte the White House. That's a risk that we cannot take.

No Labels justiffies this dangerous campaign by making false comparisons between the extremes of the right and the left. No Labels ignores the legislative victories we achieved on a host of issues that appeal to a broad coalition of voters. Democratic leadership delivered a bipartisan infrastructure bill, historic climate investments, bipartisan gun safety legislation, protections for marriage equality, and much more.
But if Trump is back in the White House, that progress—and our democracy—is in peril.

No Labels must stand down for the future of our country. We're calling on all Democrats to join us in calling out this dangerous ploy.