To:

Governor Gavin Newsom
California Barbers, Cosmetologists, & Esthetician's back to work April 27th (Soft Opening)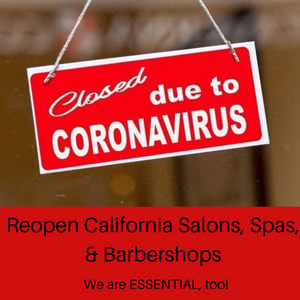 Allow a licensed beauty professional to perform a beauty service privately with one client in the salon per stylist at a time Starting as of Monday, April 27, 2020. All necessary precautions and sanitation protocols approved by the state of CA and the local Board of Health will be followed. Our industry needs to be recognized & deemed as an essential business so we can better serve our community.
The California Board of Barbering & Cosmetology requires that all operators perform services with the most high sanitation standards. We are required to sanitize any and all implements and work stations before and after each and every guest. We are required to keep the salons and spas clean and sanitized. Our sanitation solution company - Barbicide - which is used by all operators, has issued a statement that the EPA has approved its efficacy against the Human CoronaVirus including COVID-19 (link: https://barbicide.com/barbicide-statement-regarding-covid-19/).
Because of the above stated, I believe that we should be reinstated immediately. Along with using Barbicide as required to keep our operational licenses, each salon/spa can implement the following to keep the curve flat, but also be able to keep our livelihoods:
• Masks on guests and operators.
• Sanitize stations and shampoo bowls before & after each client.
• Sanitize front desk and all door handles every 30-60min.
• No one allowed who's been sick in the last 2 weeks (fever, coughing, etc.)
**will include checking temperatures
• Only allow in clients who are being actively worked on.
Servicing one client at a time (while wearing a mask & gloves) poses little to no risk of spreading the virus, as compared to 20 or more people in a grocery store or 10 plus people at restaurants picking up food.
Why is this important?
The survival of the independent beauty professionals is at risk. We are facing grave financial hardship. It imperative that salons and spas are reinstated. Most of this industry is self-employed, in order to feed our families, pay our bills, and generally survive we need to work. We are not given Paid Time Off or Insurance Benefits.
How it will be delivered