To:

VISTANCIA AZ RESIDENTS
OPPOSE REZONING GPA22-06 and Z22-17 TOWNHOME/RENTAL DEVELOPMENT IN PEORIA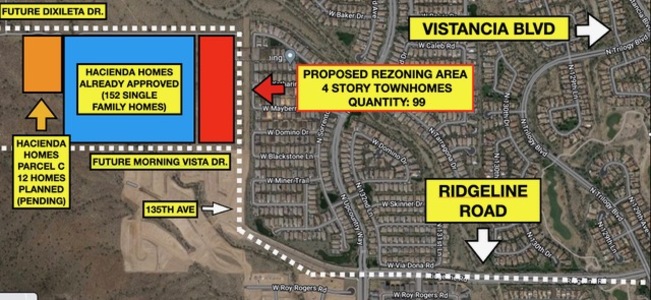 The undersigned are residents of Vistancia in Peoria, AZ, who are registering our OPPOSITION to General Plan Amendment GPA22-06 and Rezoning Request Z22-17 submitted to the Planning and Community Development Department for approval by the Peoria City Council.
The proposed changes would allow for the development of a 99-unit townhome/rental community south and west of future Dixileta Drive and 135th Avenue. This project will fundamentally change and NOT improve the identity and character of our community by diminishing the quality of life of existing residents, lower our home values and contradict the intent of the City's General Plan and its vision for the community. It is our expressed opinion that the Simpatico development would have a negative impact on all of the surrounding Single-family residential communities and set a precedent for the construction of future non-conforming complexes in our neighborhood.
Why is this important?
We believe the requested Rezoning and Land Use Designation Change are not an improvement to the General Plan, nor is this development in scale or does it fit with the identity and character of the surrounding areas. We would hope the Peoria Planning Commission and members of the City Council of Peoria will honor the original intentions of the city of Peoria's visionaries by rejecting Simpatico's application.
How it will be delivered
In Person to City of Peoria Planning and Zoning Commission