To:

President Joe Biden, DHS Secretary Alejandro Mayorkas
President Biden: Pakistanis Need Climate Disaster Relief - Grant TPS and SSR Before It's Too Late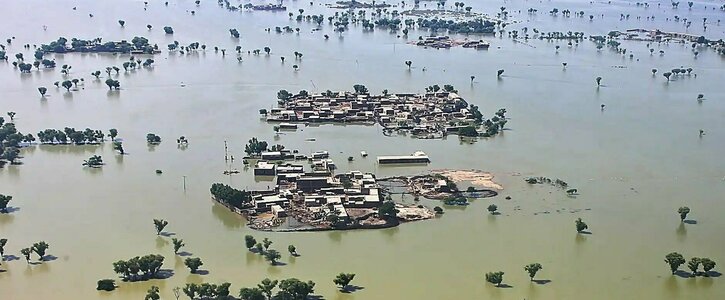 Demand: As millions of Pakistanis continue to suffer from the ongoing devastation of deadly floods, we urge President Joe Biden and Secretary Alejandro Mayorkas to grant Temporary Protective Status (TPS) and Special Student Status (SSR) for Pakistani nationals working and studying in the United States. Give Pakistani immigrants the ability to work in the U.S. and provide for their families in dire situations back home--before it's too late. Impacted Pakistanis need relief.
Why is this important?
Catastrophic flooding has left one-third of Pakistan underwater and devastated the country's healthcare, education, and agricultural infrastructure. 1 in every 7 Pakistanis has been impacted by the flooding. This has displaced 7.9 million people, impacted more than 33 million people, and killed at least 1,600 people and counting. After record flooding, the UN health agency warned that the country is on the verge of a public health crisis as millions suffer from waterborne diseases. Relief agencies have warned that the wait for the water to recede could last at least six months.
Pakistan emits less than 1% of the world's planet-warming gases, but it is the eighth most vulnerable nation to the climate crisis. [https://www.cnn.com/2022/08/30/asia/pakistan-climate-crisis-floods-justice-intl/index.html]
While the United States sent some relief in monetary aid, this is simply not enough to counteract the impact of the climate crisis that Pakistan is not even responsible for. Temporary Protective Status (TPS) and Special Student Status (SSR) are humanitarian protections that have benefited numerous foreign national groups in the U.S. over the past few decades. Pakistani nationals and students should not be excluded from this humanitarian relief.
**Sign this petition to demand President Joe Biden and Secretary Alejandro Mayorkas designate Temporary Protective Status for impacted Pakistanis and protect Pakistani nationals already working and studying in the United States.**
We also urge the Biden administration to enact policies that communicate a more serious commitment to support Black and Brown working communities, here and abroad, that are disproportionately impacted by climate disasters.
The humanitarian crisis facing ordinary Pakistanis is unthinkable. Millions of people lack access to food, clean potable water, or safe shelter and have lost their ability to work the lands impacted by the floods in a country where agriculture is the predominant source of livelihood. The hit to the agricultural sector threatens a severe food crisis. There is not enough dry land to properly bury those killed due to the floods. To make matters worse, over 1.1 million houses have been washed away, an estimated 18,000 schools have been destroyed, and millions of Pakistani mothers and infants face increased risks to life and health.
Secretary Alejandro Mayorkas of the U.S. Department of Homeland Security (DHS) can designate a country for TPS if the country is experiencing ongoing armed conflict, natural disaster, or other extraordinary and temporary conditions. TPS allows its beneficiaries to stay in the U.S. during the designation period and receive work permits. It is lifesaving, blanket protection that allows people from a designated country to remain in the U.S. while conditions in their home country make a safe return impossible.
In addition to these more immediate demands, we believe that longer-term action is urgently needed. Governments can no longer ignore their responsibilities to fortify communities vulnerable to global warming, center safe pathways for migration as essential climate adaptations, enact stronger legislation to eliminate carbon emissions, increase mitigation efforts, and implement equitable climate finance like the Loss & Damage Finance Facility being discussed under the UN Convention on Climate Change.
**While longer-term commitments are needed to support Black and brown communities disproportionately impacted by climate disasters, the best thing President Joe Biden and DHS Secretary Mayorkas can do right now is to use programs like TPS and SSR to provide relief and respite for impacted Pakistanis.**
A designation of TPS and SSR would allow Pakistani immigrants, including students, the ability to work in the U.S. and provide relief to their families back home while bolstering the larger economy. Sign this petition to request relief for impacted Pakistanis.
–
Coalition partners: Presidents' Alliance on Higher Education and Immigration, Communities United for Status and Protection (CUSP), Climate Justice Collaborative at the National Partnership for New Americans (NPNA), and Desis Rising Up & Moving (DRUM)
–
Banner image credit: Guardian/Husnain Ali/AFP/Getty Images
–
For more context, read these reflections from Pakistanis directly impacted by the floods.
https://www.nytimes.com/2022/10/10/opinion/pakistan-floods-flood-crisis.html
https://www.nytimes.com/2022/09/11/world/asia/pakistan-floods-food-crisis.html
https://www.nytimes.com/2022/10/15/world/asia/pakistan-floods-dadu-sindh.html
https://www.nytimes.com/2022/09/03/opinion/environment/floods-in-pakistan-climate-change.html
https://www.pbs.org/newshour/show/scale-of-destruction-due-to-pakistan-floods-nearly-incomprehensible
https://www.nytimes.com/2022/08/30/climate/pakistan-floods.html
https://www.nytimes.com/2022/09/14/world/asia/pakistan-floods.html
https://www.nytimes.com/2022/09/15/climate/pakistan-floods-global-warming.html