To:

Mayor-Elect Rick Blangiardi, the incoming Director of the Department of Environmental Services, and the incoming Director of the Office of Climate Change, Sustainability & Resiliency
Support for Oahu Plastics Ban - Ordinance 19-30 (Previously Bill 40)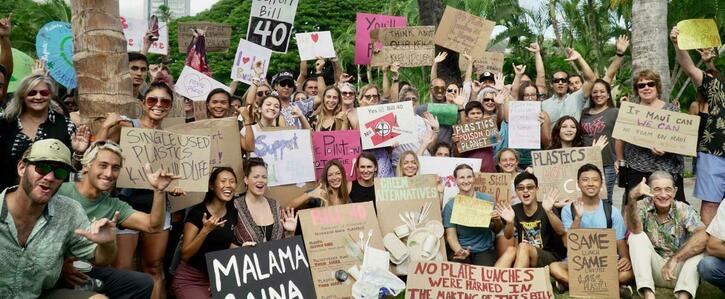 Commit to the smooth rollout of Ordinance 19-30, Oʻahu's Disposable Food Ware Ordinance (DFWO). Ensure that the ordinance is implemented directly following the 90-day "Education Period", with no more delays or barriers.
Why is this important?
On December 10th, the City and County of Honolulu announced a 90-day "Education Period" for the Disposable Food Ware Ordinance , previously known as Bill 40. This Education Period delays the implementation of the law from January 1, 2021 to April 1, 2021.
We are asking the incoming Blangiardi administration to ensure the swift and effective rollout of this ordinance, which received overwhelming support from a wide base of community members, including local businesses. We ask that this be the only and final barrier to the implementation of this law.
The COVID-19 pandemic has resulted in an unprecedented and difficult year for our local businesses. With shutdowns and financial uncertainty, some restaurants have been unable to prepare for the original January 1 effective date. Given these circumstances, a 90-day Education Period for restaurants to prepare for the Disposable Food Ware Ordinance (DFWO) is both reasonable and compassionate.
At the same time, the passage of this historic law is the result of over a decade of education, awareness, and organizing from a wide coalition of community members, including youth, restaurants, small businesses, and nonprofits. The bill passed with sweeping public support and a 7-2 vote by the Honolulu City Council. At the final hearing, a scroll signed by thousands of students was presented to ask the City Council to consider their future and pass Bill 40.
The ordinance will be implemented in two phases. The first phase can save businesses thousands of dollars through the "by request only" mandate. This requires food establishments to provide disposable utensils and straws only upon request. Businesses, customers, and the environment benefit by avoiding single-use items that are not required or desired. This first phase of the law allows businesses to save money in this time when they need it most.
Additionally, while eco-friendly alternatives can be more costly than petroleum-based plastic, the prices for plastic-free items are already dropping and will decrease rapidly as more and more businesses make the switch.
In the 10+ years it has taken to pass this comprehensive plastic reduction law, our beaches, ocean and wildlife have been increasingly inundated with plastic. As the problem continues to worsen, the same special interest groups and large businesses have worked to undermine the changes our keiki and our community have fought so hard for.
Even before COVID-19 began to impact our islands, these same lobbyists and special interest groups were already seeking routes for exemption from and delays to the new ordinance. They continue the same tactics that they have used for 10+ years to do nothing to reduce plastic pollution, and they are now leveraging the pandemic to ask for a 2 year delay on implementation.
Meanwhile, numerous local and small businesses have already taken proactive steps to reduce plastic and comply with the law, including our Ocean Friendly Restaurants.
Ordinance 19-30 stands as one of the most ambitious and impactful pieces of policy in the nation that addresses these issues, and it is one that passed with overwhelming support from the public, from our youth, and from the City Council.
Please sign this petition as a way to show your strong support for Bill 40, now Ordinance 19-30, to be implemented as planned. This new law is a crucial and inspiring solution to plastic pollution and climate change, and we cannot delay action any longer.
This petition was created by a coalition of organizations:
-Zero Waste Oʻahu
-Surfrider Foundation Oʻahu Chapter
-Kokua Hawaiʻi Foundation
-Sierra Club Hawaiʻi
-Hawaiʻi Youth Climate Coalition
-Sustainable Coastlines Hawaiʻi
How it will be delivered
We will send the signatures to the targets.