To:

Governor Charlie Baker
STOP the Separation of Birthing Families!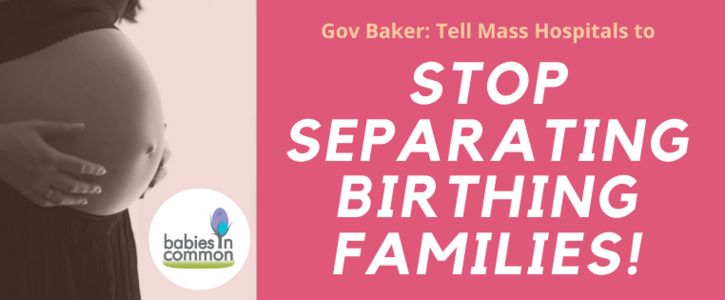 We are calling upon Governor Charlie Baker to issue an executive order demanding that hospitals in our commonwealth STOP violating the human rights of birthing people and immediately begin allowing ALL pregnant patients that are being evaluated in triage, receiving antepartum monitoring, being induced or who are laboring at any stage, to be accompanied by their companion of choice throughout their entire hospital stay.
WATCH our VIDEO to get the details of the situation: https://www.babiesincommon.com/blog/post/stop-separating-birthing-families
"Pregnancy is not put on pause in a pandemic, and neither are fundamental human rights. A woman's experience of childbirth is as important as her clinical care. In the 'new normal' of COVID-19, The World Health Organization strongly recommends that the emotional, practical and health benefits of having a chosen labor companion are respected and accommodated. The pandemic must not disrupt every woman's right to high-quality, respectful maternity care."
~ Dr. Ozge Tunçalp, scientist at the World Health Organization's Department of Sexual and Reproductive Health and Research
Why is this important?
Right now, in 2021, countless pregnant people at city hospitals around Massachusetts are being forced to labor ALONE for many HOURS or even multiple DAYS, without their partner or chosen companion for support. These people have NOT tested positive for COVID-19.
As of 1/8/21 we have confirmation from hospital employees, patients and providers that Brigham & Women's Hospital, Tufts Medical Center, MassGeneral Hospital and Baystate Medical Center are routinely separating pregnant patients from their partner when entering the hospital and forcing the patient to sit alone in triage for hours, until it is deemed that they are advanced enough in their labor to be admitted to the maternity unit. Beth Israel Deaconess Medical Center and BWH are also refusing to allow a support person to accompany a patient who needs hospital monitoring for a high risk medical condition, EVEN IF their hospitalization lasts DAYS or WEEKS.
However the MOST egregious offender is BWH, who is the ONLY tertiary care medical center in the commonwealth who is refusing to allow a pregnant person to have their partner for support not only during a triage evaluation or high risk hospitalization, but also if they are undergoing some types of labor induction.
THESE PRACTICES ARE A VIOLATION OF A BIRTHING PERSON'S HUMAN RIGHTS and research shows these practices place patients at risk for longer, more painful and traumatizing labor experiences as well as COERCION, MISTREATMENT and NEGLECT from hospital staff. Countless research also shows these harmful practices also disproportionately affect black, indigenous and and other people of color, younger folks and non-English or non-native English speakers.

TO CONSIDER ANY PART OF THE LABOR PROCESS AS APPROPRIATE TO ENDURE ALONE IS UNACCEPTABLE, INHUMANE AND DANGEROUS.

In the 2018 report "Intrapartum Care for a Positive Childbirth Experience", the World Health Organization lists continuous labor support by a "companion of choice" as a vital factor in protecting the human rights of laboring people and an evidence based component of reducing maternal morbidity and mortality.
In addition, The American College of OBGYNs (ACOG) Committee Opinion No. 766 states that in addition to regular nursing care, continuous one-to-one emotional support provided by a support person is associated with improved outcomes for women in labor and ACOGs own COVID-19 Guidelines do NOT call for the routine separation of pregnant people from their companion of choice in labor as a way to protect patients and staff from COVID19 concerns.
In fact, ACOG's COVID 19 guidelines say "Labor, delivery, and postpartum support may be especially important to improve outcomes for individuals from communities traditionally underserved or mistreated or harmed within the health care system. Institutions should be mindful of how restrictions might differentially and negatively affect these communities, which in many areas are also disproportionately affected by COVID-19."
Labor professionals and those with personal experience with a high risk pregnancy or a labor induction will most certainly verify that these experiences are not only painful and often discomforting, but physically, mentally and emotionally exhausting and it is a violation of a birthing person's human rights to be forced to endure it alone and beyond that, simply cruel when the separation lasts days or weeks.
HOSPITALS ARE NOT PRISONS and individuals in hospitals should not be treated as such. Restricting support in this way puts the birthing person at risk of coercion from medical providers to accept additional and more invasive medical interventions to "get labor going" sooner than might otherwise be necessary, so that they can be reunited with their partners.
The reason being used to justify these human rights violations is "pandemic safety concern for patients and staff." This is RUBBISH. Certainly BWH, BIDMC, Tufts, MGH and Baystate cannot claim that their patients are any more at risk for coronavirus exposure or COVID disease than the patients at UMass in Worcester and Women & Infants in Providence where a birthing person is allowed at least one companion of choice in ALL of the above situations.
Meanwhile, the separated partners are often waiting downstairs in the lobby, risking further exposure to themselves to coronavirus, putting their partners and babies at risk in the future. The last place any expecting parent should be spending any length of time during a global pandemic is a hospital lobby.
Furthermore, At W&I, the largest obstetrical facility in Rhode Island, skilled labor support companions called doulas are considered to be an integral part of the healthcare team and healthy patients have been allowed one support person AND a doula when in labor consistently throughout the pandemic. Because doulas make a difference, especially for marginalized communities that are the most at risk for maternal and neonatal morbidity and mortality.
In March of 2020, in compliance with the guidance from the New York State COVID-19 Maternity Task Force, Governor Cuomo of NY issued an executive order that required all hospitals in NY, both public and private, to allow women to have a partner in the labor and delivery room. In April 2020, he amended that executive order to allow doulas as additional support persons during delivery. However, it seems that Massachusetts, considered by many to be a leader in healthcare, is stuck in the dark ages.
We are asking you today to join us in signing our petition, calling upon Governor Baker to issue an executive order demanding that hospitals in our state STOP VIOLATING THE HUMAN RIGHTS OF BIRTHING PEOPLE and immediately begin allowing ALL pregnant patients that are being evaluated in triage, receiving antepartum monitoring, being induced or who are laboring at any stage, to be accompanied by their companion of choice throughout their hospital stay.