To:

Governor Maura Healey of MA has set committees for Affordable Housing and our Environment. This is a most amazing decision on her part. As the climate continues to hold us hostage and energy bills skyrocket, we need to take action now.
Affordable GREEN Housing for Low-Income PoC Elders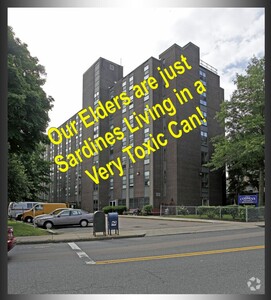 Honorable Governor Maura Healey,
We commend you on your efforts to greenify Massachusetts, to build affordable housing and clean up our environment.
There is a population out here that you may have overlooked, as many do. Our elders. Specifically our low and moderate-income elders, Elders of Color, all People of Color, LGBTQ+, and the Otherly Abled.
You must allow the Grandmothers' Village Project and other similar organizations to build new, non-toxic, off-grid housing for our most vulnerable. Not only will this allow low income elders and others to live within their means, it will also allow them to live in a healthier environment and establish community and relationships. This is a power move to self-sustainability, affordability, good health, and relationships that will catapult these elders into living longer, stronger, healthier lives.
Our POC elders are the forgotten population. They are full with wisdom, knowledge, experience, and meaning. They are a jewel in our society, yet we continually seek to throw them away into tiny little unbreathable boxes for homes. They get sick(er) and just die off. This seems to be the trend in this country: Elders are not useful and in the way! Well, everyone will become an elder one day, and you may not have the resources you had when you were younger!
Let Massachusetts be the first in the country to greenify and electrify low and moderate-income housing. We've always been a first starter but now other states are surpassing us.
Allow GVP to build an Intentional Community for POC Elders with a regenerative-permaculture organic farm, a winter greenhouse, and a retreat center/sanctuary in Randolph MA. This is our phase one for marginalized populations. We need the land! You can help!
Why is this important?
After interviewing more than three dozen BIPOC elders 50 to 80 years of age, we found most low and moderate-income elders are struggling desperately. Their living conditions, in public senior housing, assisted living, and not-quite-affordable market housing is very often deplorable: These are tiny living spaces, no storage, often dirty/stained, and with infestations (at no fault of their own), with poor air quality, and absolutely no green spaces.
The health of these elders had become compromised, suffering from joint problems, asthma, hypertension, depression, anxiety, loneliness, despair, and at times, suicidal ideation. Not due so much to their age, but due to the deplorable living conditions, and lack of relationship or community.
The above conditions can manifest as Dementia and Alzheimer's Disease, along with manifestations of physically terminal and debilitating illnesses. This should not be, and we want to remedy this forgotten population and create community, relationships, and healthy living environments for them.
When Gov. Healey spoke about opening state-owned land to build affordable housing, the Grandmothers' Village Project attempted to schedule a meeting with her. Twice she canceled the meeting and the third time she just didn't bother to respond.
Viewing her posts on social media, I often wondered if she will only meet with an organization if there is a press photo opportunity. If this is true, it's very sad that she will not meet with her constituents without the photo op!
What needs to happen: We need a new and vibrant method of building affordable housing in Massachusetts. This housing should be off-grid electrified using solar, hydrothermal or geothermal methods of energy.
We know about the IRA (Inflation Reduction Act), the Biden Justice 40 Initiative, and other programs that are now available from the Federal government to afford the average, individual person a way to greenify and electrify their homes. This money is available for organizations and businesses as well.
So, my question to Gov. Healey is this: Why not allow smaller organizations to build this desperately needed housing in a way that will never burden low-income folks financially. Nor will it cause illness through toxic building materials. Nor be so small that people are forced to downsize to a place of having nothing left that is meaningful to them.
Gov. Healey cannot allow just the big developers to come in and build their status quo, cheap, toxic materialed housing where they pile as many people inside as possible. Their housing developments will be fossil-fueled creating a deeper burden financially for low and moderate-income residents.
The Grandmothers' Village Project would like to see all new housing built to be green and off the grid. We want to build it!
We need your support! Please Sign this petition!