To:

Sen. Richard Blumenthal (CT-1), Sen. Christopher Murphy (CT-2), Rep. John Larson (CT-1), and ICE New Orleans Field Office Director, Diane Witte
Bring Bakhodir Home!

CT Shoreline Indivisible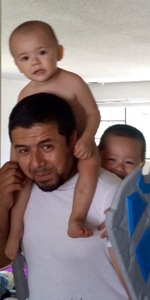 Stop the deportation of Bakhodir Madjitov, a Connecticut father of 3 who has lived in the US for 13 years. Bring Bakhodir Home!
Bakhodir was taken by ICE in front of his pregnant wife in December of 2017. He's been in ICE custody ever since.
On Thursday morning (9/17/20) Bakhodir was moved before sunrise from an ICE jail in Alabama to one in Louisiana. He has tested positive for COVID-19.
Why is this important?
Bakhodir Madjitov, a Connecticut father of 3 young boys, had been living in the US for 11 years when ICE raided his home in the early morning hours of December 22, 2017. He's been in custody ever since. His children are suffering – and we're concerned that he may be deported soon.
Bakhodir's wife Madina was 39 weeks pregnant with a complicated pregnancy when ICE entered their home without a warrant 2 years ago. Bakhodir and Madina's third child was born a week after ICE detained his father.
Prior to being detained, Bakhodir supported his family as a home health aide working with a government issued ID.
In the last 2 years, ICE has moved Bakhodir around the country in detention centers in Massachusetts, Alabama, New Jersey, and Louisiana.
Madina and her lawyers are concerned that ICE might be planning to deport Bakhodir- even though he has an active case pending.
Connecticut values families. We want Madina and Bakhodir and the boys together.
Join us in telling ICE that Bakhodir should be home with his wife and sons!