To:

David Entwistle, Stanford Health Care President & CEO, and Paul King, Stanford Children's President & CEO
Don't Cut Nurse Health Benefits During Strike
We won! New, industry leading contracts and the hospitals backed off their threat to cut off healthcare.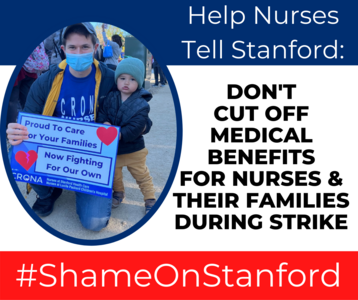 Two days after Nurses represented by CRONA at Stanford's children's and adult hospitals provided a strike notice, executives announced they would cut off health benefits for striking workers.

The Stanford hospitals could maintain benefits, but have chosen to use benefits as a weapon to punish Nurses for standing up for ourselves and our patients.

CEOs David Entwistle and Paul King must reverse course and retract this threat.
Why is this important?
Nurses have gone above and beyond to keep the Stanford hospitals running through the pandemic and to maintain the world-class care that has built the hospitals' reputations. In the face of a staffing crisis, unprecedented case loads and extremely high patient acuity, Nurses have continued to pour our hearts into helping our patients.

Since January, we have put forward proposals in contract bargaining to address serious issues and create a sustainable workplace for Nurses at Stanford's adult and children's hospitals, but management just keeps saying no to many of our demands. Even after working with a federal mediator after our contracts expired on March 31, we were unable to reach a fair agreement.

The hospitals have refused to acknowledge the understaffing that makes our work so hard. We are fighting to recruit more Nurses, reward the Nurses are working in the critical care areas, allow Nurses to take time to rest and recover, and to get meaningful mental health resources to Nurses who need them. When we could not get these basic commitments from the hospitals, more than 93 percent of eligible Nurses voted to authorize a strike.

Now, the hospital executives are trying to use our health benefits as a weapon to break our resolve and prevent the strike. This decision is cruel and immoral. Health benefits should not be used against workers, and especially against the very health care professionals who have made Stanford a world-class health system.

Please stand with Nurses and demand that the CEOs David Entwistle and Paul King immediately reverse this decision and pledge to maintain our benefits while we work to reach an agreement.
Colleen Borges, pediatric oncology Nurse at Lucile Packard and CRONA president
Kathy Stormberg, radiology Nurse at Stanford and CRONA vice president
Eileen Pachkofsky, pediatric oncology Nurse at Lucile Packard and CRONA vice president
How it will be delivered
We will deliver our petition prior to the start of our strike on April 25, 2022.