To:

Oneida County Board, Wisconsin
End Minocqua's War on Beer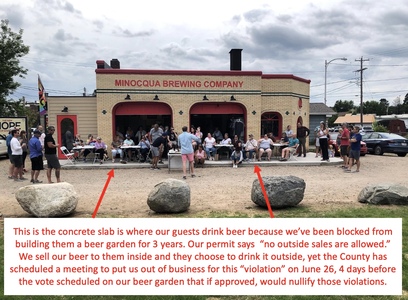 The Minocqua Brewing Company has become a strong progressive voice in Northern Wisconsin. But our County Board has threatened to shut down our brewery because they see too many happy progressives congregating in their arch-conservative Town of Minocqua.
Our customers—faced with a barrage of signs all over our community that read "Let's Go Brandon" and "Trump Won" that blight the beautiful scenery of lakes and streams they came up here to see—just happen to want to drink beer in a place that doesn't offend them…
...a place that stands for truth, democracy, and tolerance.
And THAT is somehow unacceptable to our town board and county zoning commission.
Help save beer and save democracy in Wisconsin. Sign the petition and demand the Oneida County Board END their harassment of our small business and STOP trying to shut us down.
Why is this important?
Wisconsin is arguably only 1 out of 3 swing states left in America (Georgia and Arizona are the other two). Biden won by 20K votes out of 5 million people in 2020, and those votes were almost overturned by a corrupt right-wing Wisconsin Supreme Court, and a sleight of fraudulent Republican electors.
Since the January 6th insurrection, The Minocqua Brewing Company has become a strong progressive voice in the reddest part of the state, and has spent over $1.2M to protect Wisconsin's democracy.
We helped Elect Governor Tony Evers and helped elect a 4-3 progressive majority on Wisconsin's Supreme Court, ensuring that Wisconsin's democracy would not fall in the 2024 presidential election.
Statewide Republicans are doing everything they can to cancel our company, and are now trying to do it through targeted and abusive zoning regulations. Winning this battle will show progressives in red areas that they too can stand up to corruption and MAGA extremism.