To:

President Biden
Fight Climate Change, Save Mature and Old-Growth Forests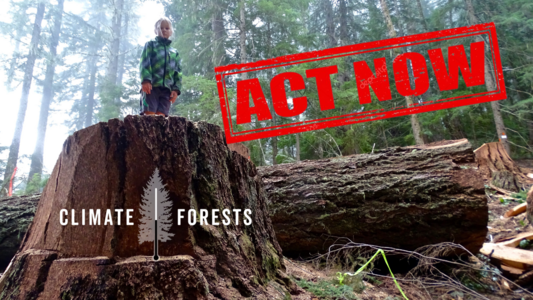 Dear President Biden,
We, the undersigned, are writing to thank you for your executive order directing the conservation of mature and old-growth forests. We now call on you and your administration to realize the promise of the EO by creating a strong, lasting national rule that protects mature and old-growth trees and forests across federal public lands from logging. Protecting and recovering these natural climate solutions would be a key piece of U.S. climate policy, a sign of international leadership, and an enduring legacy of your administration.
Safeguarding and expanding carbon-rich forests on Forest Service and Bureau of Land Management lands is one of the most important, cost-effective, and timely approaches to fighting the climate crisis. Mature trees store and continue to absorb large amounts of carbon in addition to providing the public with clean drinking water, habitat for imperiled wildlife, and world-class recreational opportunities. Larger, older trees are also more fire resistant, and the rule would allow for necessary efforts to address the risk of fire.
Unfortunately, vital mature forests and trees on federal lands are threatened by numerous proposed and ongoing logging projects, in spite of your executive order to conserve them. We need to ensure America's mature and old-growth trees and forests remain in place to mitigate climate change, and to maintain their natural benefits for future generations. Thank you for your leadership on these important issues.
Sincerely,
Why is this important?
Following Executive Order 14072, Strengthening the Nation's Forests, Communities, and Local Economies, we are calling on the Biden Administration to enact a strong, lasting rule across federal public lands that protects mature and old-growth trees and forests from logging, allowing the recovery of old-growth forests that have been lost. These forests are essential to removing and storing carbon from the atmosphere, safeguarding wildlife, and providing clean drinking water for our communities.
We are working to build grassroots pressure across the United States to ensure strong, lasting protections for our climate forests — and we need your help!
Moving forward, we need to convince the Forest Service and Bureau of Land Management to take the threat logging poses to climate change and wildlife loss seriously. We must ensure our climate solutions match the scale of the threats we face today, and conserving and recovering our mature and old-growth forests represents one of the simplest, most cost-effective actions we can take.
Please join us in calling on the agencies to fulfill the promise of President Biden's Earth Day Executive Order on forests by beginning a rulemaking process immediately to ensure our climate forests remain standing for future generations.