To:

THE FCC & DOJ
PETITION: FIRE TUCKER CARLSON FOR DEMANDING VIEWERS HARASS MASK WEARERS
AJ

Campaign created by
Anthony Jagger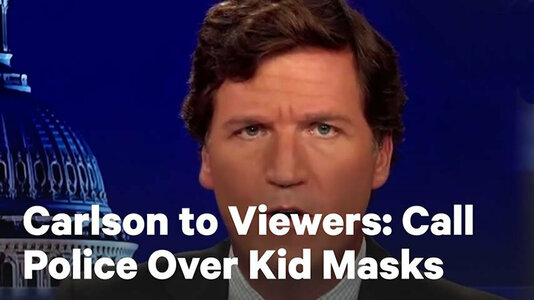 On April 26, 2021, FOX NEWS' Tucker Carlson told his millions of viewers to confront and harass people who they see wearing masks in public by demanding that they remove their mask. He then further encouraged his viewers to call the police on parents who's children are seen wearing masks in public, calling it "child abuse."The video is all over social media and can be found by searching for; "Tucker Carlson Mask Comment".
Carlson continues to prove that he has become the tip of the spear of the powerful right-wing media machine, the de facto leader of the racist, conspiracy-loving, pro-Donald Trump far right—and we need to fight back.
Why is this important?
Five nights a week, an average of more than 3 million people tune in to watch Tucker Carlson on Fox News—it's the largest audience of any show on cable news. In April alone, those millions of viewers have heard Carlson claim that COVID-19 vaccines don't work, that having children wear masks to protect them from the virus is child abuse, that convicted murderer Derek Chauvin did nothing wrong, and that Democrats want to replace white voters with immigrants—a decades-old racist and antisemetic argument known as the "replacement theory."
Videos featuring Carlson's comments doubting the effectiveness of COVID-19 vaccines are spreading like wildfire on social media, with one clip viewed nearly 6 million times on Facebook alone.
Carlson isn't the only one: FOX pundits have been behaving in the most irresponsible manner imaginable for years. According to Media Matters, two weeks after the election was called for President Joe Biden, Fox pundits casted doubt on the results nearly 800 times. Fox News repeatedly aided Trump's efforts to undermine election results, laying the groundwork to cry foul if Trump lost, echoing debunked theories of fraud, pushing the idea that Democrats are trying to "steal" this election, and arguing that Trump is justified in pursuing his claims of a rigged election. This pattern of coverage consequently led up to the deadly insurrection led by white nationalists.
With our democracy—and human lives—on the line, we cannot allow despicable figures like Tucker Carlson to drive these harmful and dangerous messages.
Please sign this petition and ask everyone you know to also sign it so we can send a clear message to Tucker Carlson and FOX News that their irresponsible conduct is being monitored and will not be tolerated.
How it will be delivered