To:

California Department of Public Health
Patients Can't Wait: It's time to enforce nurse-to-patient staffing laws in California hospitals.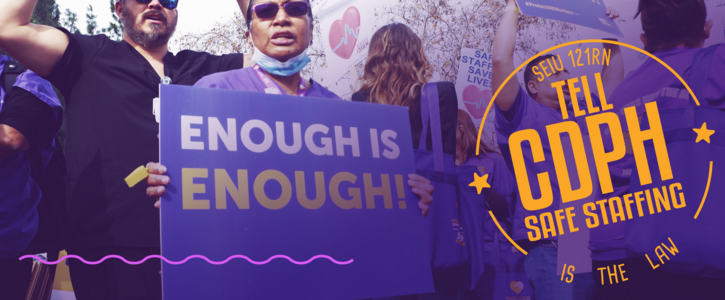 California is the only state in the nation to mandate specific nurse-to-patient ratios in all acute care hospitals. These ratios were carefully designed—and backed up by research—to ensure that nurses would not be assigned more patients than they could safely care for.
The California Department of Public Health (CDPH) is the state agency responsible for protecting the health and wellbeing of all Californians. That includes overseeing hospitals to ensure that they are safe for patients. In its hospital oversight role, CDPH has the authority to investigate violations of the law and to issue hospital fines for violations that put patients at risk.
Currently, these legal regulations are not being enforced to the fullest extent of the law, and hospitals disregard the law because of it.
CDPH should take full charge of its important role as a watch-dog over our public health. That means all safe staffing laws should be fully enforced—including implementing legal fines for hospitals that violate the law.
We call on CDPH to:
• Issue hospital fines in accordance with the law when violations are found after investigations are finalized.
• Meet with employees away from managers, to get the real story.
• Protect employees who stand up for safe staffing from retaliation.
• Provide evaluators with the resources they need to carry out the law.
• Educate evaluators on the law.
Why is this important?
Over the last three years, nurses and other healthcare workers have made enormous sacrifices. In many facilities, chronic unsafe staffing was already the norm when the pandemic brought a massive influx of critical patients. Nurses need more support than ever before—especially when it comes to safe staffing.
There is ample evidence that nurse-to-patient ratios do save lives1—even though we've not yet seen the full potential of this important safety mechanism. Conversely, research shows that unsafe staffing is directly linked to negative patient outcomes.
Without the backing of CDPH and full enforcement of the law, hospitals will continue to cut corners by purposefully understaffing their units, the dangerous race to the bottom in hospital staffing will continue and nurses will continue to leave the bedside.
If you're a nurse or licensed healthcare professional facing unsafe staffing or other challenges in your workplace, join us! Visit https://www.seiu121rn.org/join/ to learn more.
1 Aiken LH, Sloane DM, Cimiotti JP, et al. Implications of the California nurse staffing mandate for other states. Health Serv Res. 2010;45(4):904-21. Available at: https://onlinelibrary.wiley.com/doi/full/10.1111/j.1475-6773.2010.01114.x