To:

President Joe Biden
President Biden, Declare a Climate Emergency

Karen Feridun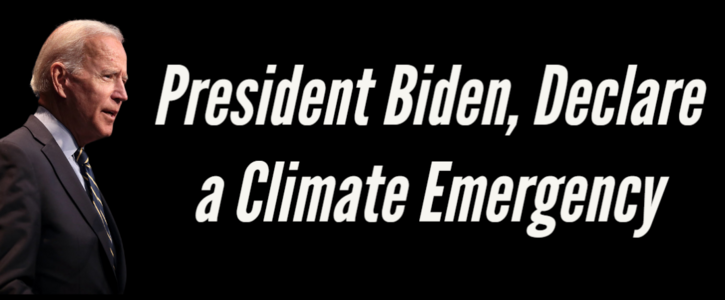 The climate crisis is out of control and you can do more to address it. At risk are millions of lives and a stable society in which we can all thrive. If we continue down the fossil-fueled path we are currently on, it will spell disaster for both people and the planet.
We implore you to use your executive powers to declare a climate emergency. By declaring a national climate emergency, you can actualize the "whole-of-government approach" you promised on the campaign trail to address the biggest existential crisis we've ever faced. This administration must address the climate emergency and protect communities in the Gulf threatened by the buildout of new export terminals by using the authority granted by Congress to reinstate the ban on crude oil exports. Declaring a national climate emergency will allow you to kick start a managed phase-out of fossil fuels and a transition to renewable energy, and to launch a jobs stimulus package that secures good-paying union jobs for workers in these communities.
Why is this important?
We are partnering with other organizations across the country to gather signatures on this petition started by Greenpeace. Please add your name to this petition to send the strongest possible message to President Biden.
The climate crisis is already changing life as we know it. Devastating climate impacts are displacing millions of people each year. Meanwhile, the fossil fuel industry continues to extract from public lands and exploit communities of color for profit.
Declaring a Climate Emergency would be the beginning of the end to the era of fossil fuels and climate destruction. By using his executive powers, President Biden can repair the harm caused by environmental racism and deliver good-paying union jobs, justice, and clean energy for all.
Families from Washington state to Florida are already starting to feel the severity of the climate crisis. In the United States and around the world, Black, Brown, Indigenous, and poor people are the first to feel the impacts of fossil fuel extraction and predatory exploitation. By declaring a Climate Emergency, President Biden can begin to utilize the "whole-of-government approach" to begin solving the biggest existential threat that we have ever faced.