To:

Portland City Commissioner Dan Ryan
Prevent More Homelessness! Protect Low-Income Renters from $400+ rent increases!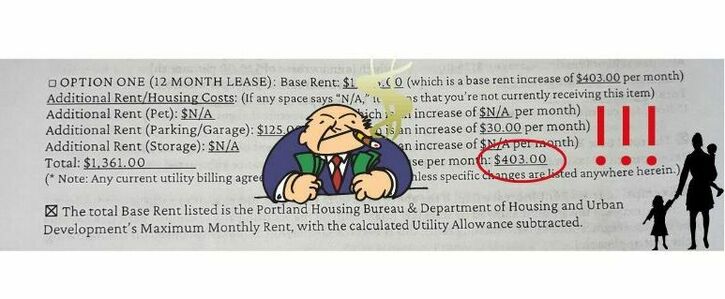 Dear Commissioner,
We are the residents of the "affordable housing" or MULTE
(Multiple-Unit Limited Tax Exemption) homes at The Prescott. We are 31 of the more than 1800 MULTE households in Portland. We urgently need your help.
Our homes were constructed with generous fee waivers and forgone property tax revenue from the City of Portland and supposed to be protected as "affordable". Yet, many of us are now facing up to rent increases of as much as $400 (50%!) starting November 1, 2022. This is because gentrification in the Portland area has caused median income to rapidly increase, and the city allows MULTE landlords to increase their "affordable" rents at the same rate, despite the fact that our individual incomes have not budged. Our building, like every other MULTE building, is less than 15 years old and thus not protected by rent control. We fail to understand how the age of our building means we can afford such an extreme rent increase, especially while that building is receiving public subsidies. This exemption means that all of our neighbors throughout the City living in MULTE buildings are in danger of receiving similar increases.
We cannot afford these increases. We cannot afford to move with the current relocation payments which were based on 2016 rents.
We need your help.
We are are seniors, single parents, people with disabilities and chronic health issues, people on fixed incomes, and people who have formerly experienced homelessness prior to living at the Prescott. These rent increases are a life-threatening event.
We, as certified "low income" MULTE tenants, deserve the same protections offered to residents of other affordable housing programs, including (but not limited to) a
cap of 5% on rent increases which is equivalent to the protections that residents in state regulated affordable housing receive.
We have learned that our problems don't end with this rent increase; we know that the building will lose all affordability protections in June 2024 when all of the MULTE protections expire. At which point we could get rent increases exceeding $1000 to bring our rents to market without rent control protections.
We at The Prescott are not alone - THOUSANDS of families in other MULTE buildings will also lose these protections when the10-year affordability expires. You kicked the can down the road in 2012 when you developed this program, without a plan for what to do when the buildings expire. These glaring loopholes in your program have only postponed the threat of homelessness for these families.
The can can't be kicked any further down the road. The time for action is now.
For these reasons we ask that you urgently pursue the following actions:
1. Immediately enact a policy or rules change that limits rent increases in MULTE units to 5% per year, and* that entitles tenants in MULTE units to more relocation assistance to offset the costs of displacement, with a retroactive effect that protects us.
(*Using the 2017 template of relocation-passage to protect Normandy and Titan residents which went into effect immediately and applied to already-issued rent increases.)
2. If policy/rule changes cannot be enacted in time to avert The Prescott increases, commit to subsidizing rent increases down to the 5% level for the duration of the MULTE contract, for all impacted MULTE residents.
3. Many Prescott tenants have been on waiting lists for years, only to move in and discover they'll be forced out next year when the affordability expired. Thus we ask that you require all current and prospective MULTE residents be notified of affordability expiration immediately, at time of application, and at time of joining a waitlist for a MULTE unit.
4. Our landlord used deceptive language to make us believe we were exempt from relo. This is unconscionable. Therefore, require that all landlords issuing rent increases use a standardized form (already) created by the City to AFFIRMATIVELY inform tenants of their relocation rights, so as to avoid confusing language meant to misinform or mislead tenants about relocation.
5. PREVENT MORE HOMELESSNESS: Immediately develop a MULTE relocation/anti-displacement plan to address the impact of the 15-year exemption on rent control for low-income residents living in expiring MULTE properties.
Without your intervention to modify the oversights related to the MULTE program and the 15-year exemption rule, some of our residents will find themselves without shelter. Vulnerable people are already in place here; the cost to the City of finding them a different home and providing services would far exceed the cost of intervention.
Please act now.
Sincerely,
The Prescott MULTE Tenants Union
Why is this important?
We are in the middle of a deep and growing housing and homelessness crisis. While we are devoting unprecedented resources toward helping people move from the street into housing, we also have to make sure that those people don't lose their housing and slip back into homelessness because they can't afford the rent.
No one should ever receive a $400 rent increase. Poor people living in city-subsidized affordable housing should never receive a city-sanctioned $400 rent increase. A $400 rent increase is not "affordable", by any metric.
In 2012, the city incentivized developers to produce over 1800 of "MULTE" units, giving up millions in property tax revenues and waiving development fees that would otherwise go toward our parks, roads, street lighting and sidewalks. In exchange, developers agreed to set aside some of their units to be "affordable".
We don't know why the city decided to exempt MULTE landlords from the policy limiting affordable housing rent increases to 5%. But we know they have the tools to fix it.
We don't know why the city hasn't increased relocation amounts since 2016, but Median income (and hence affordable rents) have increased by 45% over the same time period. We know that they are okay with MULTE landlords increasing rents by this amount, so we trust they will agree to increase relocation payments as well.
We don't know what the city was expecting when they only required affordability for 10 years, or what they thought would happen to low-income people living in those buildings when they expire and get $1000+ rent increases.
But we know they have the tools to fix this now.
Winter is coming. If the city doesn't act, urgently, more families will be sleeping outdoors. The city talks big about addressing homelessness and "anti-displacement".
Now is the time to act.