To:

Attorney General Merrick Garland and the Department of Justice
Prosecute Trump!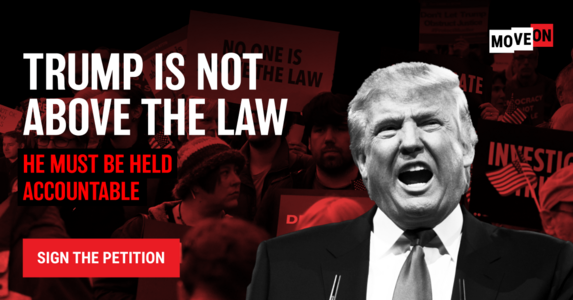 Donald Trump is not above the law. Trump is being held accountable in Manhattan, by federal courts, and others one-by-one. His crime and conspiracies continue to be a threat to our country and democracy--as well as democracies around the world, such as Brazil and Ukraine, making him a global threat to democratic values, liberty, and freedom
Donald Trump needs to be held accountable for ALL of his crimes. Now, it's time for the Department of Justice to do its job by prosecuting Trump's crimes against the American people--and the world.
Why is this important?
The New York Grand Jury has voted to indict Donald Trump of crimes related to paying hush money to Stormy Daniels during the 2016 election. On top of that, he was found guilty in a civil case against E. Jean Carroll, and he's just been indicted by a federal court for his theft of federal documents.
Trump and his team are also likely to face indictments in Georgia for their attempts to manipulate the state's 2020 election results, and Trump is also under investigation by the Department of Justice for his role in inciting the deadly January 6 insurrection, as well as for covering up his possession of highly classified documents.
Donald Trump has a decades-long history of criminality and corruption, and for too long he has been allowed to skate by without legal consequences for his actions. Enough is enough. We will never stop fighting to make our claims of "justice for all" a reality: he will be punished for all of his crimes, and we will see to it that his co-conspirators are as well, from Marjorie Taylor Greene to Jair Bolsonaro.
Join over 350,000 MoveOn members and sign the petition now demanding for the Department of Justice to move forward with charging Trump as well—because nobody is above the law.