To:

The Navajo Board of Election Supervisors & The Navajo Election Administration
Protect Navajo Voices; Protect Navajo Votes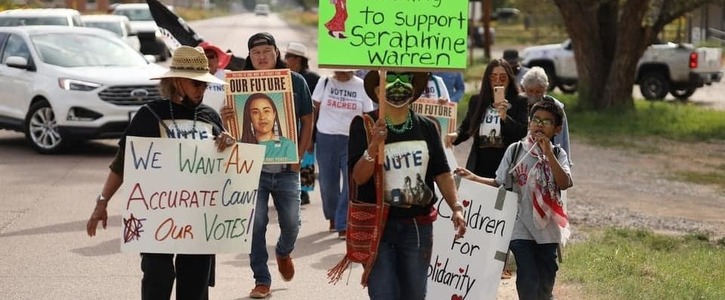 The Navajo Nation needs a revote in its 2022 Primary Election. This is necessary because the Navajo People have no confidence in the fairness of this election.
During the 2022 Navajo Nation Primary Election, numerous early, absentee, and day-of election irregularities occurred. This prompted 10 of the 15 Presidential Candidates to request a historic 110-Chapter recount.
This was granted, and revealed even more disturbing details re irregularities in the Navajo Nation's electoral system. Most notably was the failure to open or count 44 early and absentee ballots for Becenti Chapter (13 percent of Becenti Chapter's voting population) and 36 early and absentee ballots for Chilchinbeto Chapter (10 percent of Chilchinbeto Chapter's voting population) .
The recount also revealed over 100 missing ballots for Teesto Chapter, and discrepancies in over half of the 110 Chapter vote tallies.
This is unsurprising given that the Navajo Nation's voting machines are at least 26 years old, and possibly over three decades old.
The recount also revealed just how insecure and widely varying the Nation's ballot boxes are. Some Chapters use homemade wooden toy box-like boxes; others use soft-back suitcases.
Finally, the recount showed that the Navajo Election Board, Staff, and Poll workers have inconsistent understandings and practices regarding how to properly conduct a free and fair election.
None of this inspires confidence in the fairness or integrity of the Navajo Nation's 2022 Primary Election. In fact, it does quite the opposite. Given the vast problems with the Navajo Nation's electoral system, we believe it is necessary to conduct a revote under fairer conditions.
Namely, in order to ensure a fair and honest election that the Navajo People can have confidence in, we ask for a revote with modern voting machine technology and a well-trained, neutral staff. Additionally, ballot boxes should be secure and standardized, and any opening of the ballot boxes should be recorded by technology in the ballot box itself and be explained in a chain-of-custody log filled out by anyone accessing the box.
We believe these are the minimum conditions for an election that will allow the voice of the people to prevail in selecting the leaders of our choice for the next 4 years.
Why is this important?
Currently only 12 percent of the Navajo population votes in the Presidential and Delegate Primaries. In order to build further civic engagement to ensure that the voice of the Navajo People prevails, we have to have a free and fair electoral system. This is especially true with our tribal elections. If we want to inspire our children to make a difference through voting in county, state, and federal elections, we must show that voting at the tribal level has meaning. Without a free and fair election system that the Navajo People can believe in, the Navajo vote will be suppressed all across the board. In order to maximize the strength and power of the Navajo voice and vote, we must build a model electoral system here at home. If we can do this, we can inspire our youth to raise their voice and flex their electoral power at every level. And in so doing, we can transform our Nation from a forgotten patch of jurisdiction to a political powerhouse setting the tone of conversation all the way from D.C. to our State Legislatures and Governor's Mansions.