To:

Texas State Senate Committee on Education and Texas House Committee on Public Education
Support Mental Health Services in Texas Schools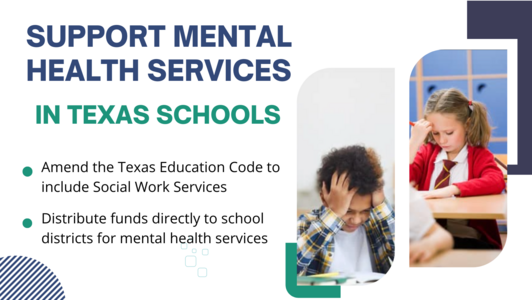 THE CHALLENGE
Mental health should be a priority in our schools, and needs to be addressed more proactively. There is extensive data that demonstrates how mental health challenges greatly affect academic success, not to mention a child's overall wellbeing and development. The Texas Education Agency (TEA) states "Approximately one in six school-aged youth experiences impairments in life functioning, including impacts on academic achievement, due to mental illness." According to the U.S. Department of Education, "Nearly all (96 percent) public schools reported providing mental health services for their students during the 2021-22 school year. However, 88 percent of public schools did not strongly agree that they could effectively provide mental health services to all students in need."
Three most prevalent limitations, identified by these schools, hinder their ability to serve their students' mental health needs:
1. Insufficient number of mental health professionals to manage their school's caseload
2. Inadequate access to licensed mental health professionals
3. Inadequate funding
THE SOLUTION
School social workers are uniquely trained to provide services that identify and address complex problems to meet the needs of the whole child, their family, and the surrounding community. School social workers can provide mental health support directly to students while simultaneously providing referrals and out-of-school resources, yet their services are not defined in the Texas Education Code. If passed, HB 316 will codify school social work services and helps more schools utilize social work services to assist students. Furthermore, there are no state funds allocated to school districts specifically for the provision of school-based mental health services.
We implore government officials to amend the Texas Education Code to include social workers, codifying them in statute, via HB 316.
AND
We implore the Texas Education Commission and government officials to support allocating funds to school districts for school-based mental health services.
Why is this important?
On any given day a school social worker can help a child who is engaged in NSSI (non-suicidal self-injury) receive wrap around services, assist a child experiencing homelessness with transportation to school, clothes and free meals, give a child with anxiety tools for managing a panic attack, and help a child find their voice to combat bullying. In one school week, and even in one day, all of these situations can arise, alongside countless other complicated situations that need immediate attention. Unfortunately many school districts don't provide schools with a social worker, or they may require a social worker to work at multiple schools. Understaffing means social workers have extremely high case loads and are not able to effectively support student's needs. The TEA reported there were approximately 5,308 Texas students for every one school social worker employed in our state during the 2019-2020 school year.
We need a social worker at every school and funds specifically allocated to school districts to provide mental health services. Therefore, we need an amendment to the Texas Education Code to include social work services and the Texas Education Commission to directly distribute funds to school districts for mental health services.