To:

Avon Town Council and Eagle County Officials
Build a Skatepark in Avon CO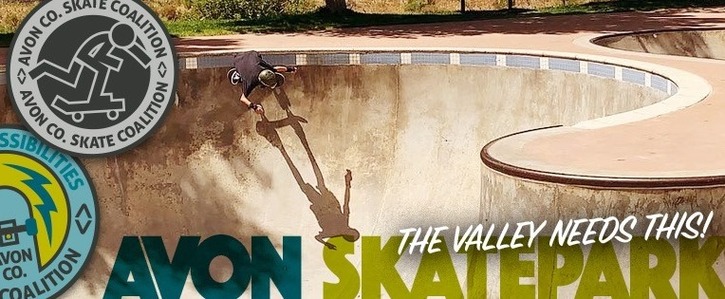 Our goal is to build a world-class skatepark in Avon, Colorado and we are asking our elected officials to support this important outdoor community use of space.
We believe that kids of all ages need more gathering places for recreation and outdoor activity. Skateboarding is accessible, inexpensive and creative. It's a lifestyle that appeals to kids, parents and adults who grew up skating and want to pass a love of this sport to the next generation. Our skating community wants a place to enjoy, practice and share with visitors. And, our youth need a place to learn and grow.
Why is this important?
These days, we all need more accessible outdoor spaces to play. Our current local skateparks are overcrowded and dangerous. As residents of Eagle County, we know that our outdoor spaces are one of our BEST community attributes. This is particularly true for school-age kids who have outgrown the playground or don't play organized sports. Skateboarding is a great outlet for these kids.
This project will also have a positive impact on our community. Skateparks are incredibly popular! With thoughtful design and engineering, they can be used by skateboarders, inline skaters, roller skaters and often scooters and stunt bikes.
Visit any public skatepark and you will see an incredibly high use of public land per square foot. A skatepark will increase the use of our public, tax-funded park. It will also provide an outlet for the ever-growing sport of skateboarding and showcase Avon, CO as a place where the community comes together to support this great sport.