To:

Amherst Town Council
Defund APD in FY23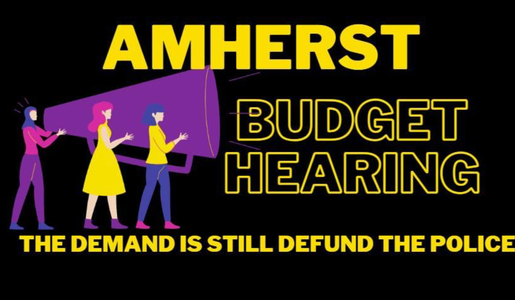 FY23 BUDGET DEMANDS
1. Implement all of the CSWG's program and policy recommendations at the funding levels recommended in their reports (Part A & Part B).
Fund DEI office at $227,647 per year (Part A, pg 14)
Create and fund Teen Empowerment Center (independent from the Jones Library) and BIPOC Cultural Center at $942,397 per year (Part A, pg 15)
Fund CRESS at $2,739,300 per year (Part A, pg 13)
Proposed total budget for 12 responders ($2,824,300) minus $85,000 of startup costs for equipment and vehicles
Changes to Amherst Police Department Policies
Use of Force (Part B, pg 20)
Consent Search (Part B, pg 23)
Low Level & Pretextual Stops (Part B, pg 25)
Reimagine traffic enforcement outside of the APD (Part B, pg 36)
Engage in an extended process of community healing and visioning (Part B, pg 41)
Develop an anti-racist departmental culture in the APD (Part B, pg 46)
2. Reduce the size of the APD (Part A, pg 16)
Don't fill any APD vacancies and transfer positions to CRESS
Cut number of police officers by 50% over 2 years
3. Cut APD budget by 47%
Why is this important?
After George Floyd's murder in 2020, there was a national cry to end racist policing. Though the national outrage has fizzled, police brutality remains far too common. In 2022, Orlando Taylor was killed by Springfield Police and Miguel Estrella was killed by Pittsfield Police, both during calls for a person in mental distress. Policing is not the solution to public safety.
Advocates in Amherst have continued to call for defunding the Amherst Police Department. A promising, BIPOC-led envisioning of an alternative safety department has been implemented. However, the funding proposed is inadequate. The FY23 budget proposes only $621,520 in funding for CRESS, or $2,117,780 less than CSWG's recommendation. There FY23 budget allocates $0 to a BIPOC cultural center, $407,690 less than CSWG's recommendation. The FY23 budget allocates $500,000 to the youth empowerment center, above what was recommended— but it provides no clear plan as to what this money will support. The FY23 budget proposes $175,257 to the DEI office, $52,390 less than CSWG's recommendation. These proposed programs will help create community safety in a responsive, anti-racist manner. They should be fully funded with money redirected from the police budget. The demand is still DEFUND THE POLICE.