To:

Virginia Legislators
Virginia Must Legalize It Right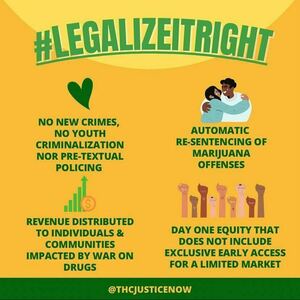 Hey Supporters! On Monday, April 11th, Virginia's Governor Glenn Youngkin submitted a bill amendment that proposes the General Assembly increase consequences from a civil penalty to a misdemeanor for Virginians possessing over 2 ounces of marijuana.
Should 2 ounces of weed mean jail time? We know it shouldn't, but Virginia's Governor seems to think so. Our legislators return to vote on these amendments next week. Sign and share our petition by Monday, April 25th to oppose his Drug War amendments before the vote.
As we continue to fight for #NoNewCrimes, we need your support. Now is the time to fight against the Governor's push to add new crimes for marijuana possession and continue the fight to reunite our families.
Virginia residents deserve transformative legislation which prioritizes re-sentencing of marijuana and cannabis offenses. Any legislation should include felonies, reunite families, and eliminate obstacles to securing education, employment, or housing. Virginia does not need a new War on Drugs which manifests through the creation of new crimes and oligopolies and shuts Drug War survivors out of the market.
We, as, Virginia residents demand that legislation for cannabis legalization include:
-Elimination of new criminal statutes associated with cannabis
-Home cultivation expansion
-Decriminalization of 18 and under in proximity to cannabis
-Expanded Record Sealing to include felony and intent to distribute
-Meaningful Re-Sentencing of marijuana related offenses to include intent to distribute
-Best Practices for Social Equity
-Head start for Social Equity Applications
-Social Equity Business Fund
-Cannabis Equity Reinvestment Fund
-All operators set up to open the same time as medical for adult use #DayOneEquity
We must decrease the chances that youth will appear before a judge due to their proximity to cannabis. This means removing zero tolerance policies on school campuses that feed the school to prison pipeline. It also means removing the language that classifies a youth as delinquent for simple possession or use of marijuana. Youth need a commitment of care, not a threat of injustice. The future of our youth can be severely impacted by marijuana-related crimes - from losing access to federal financial aid, public housing, employment opportunities, and so much more.
Cannabis equity advocates from our Commonwealth and across the country are calling for Virginia legislators to halt the creation of legislation that provides exclusive early access for corporate medical/hemp operators. Virginia's legislature attempted to exclusively speed up the legal cannabis market while increasing the barriers for legacy operators to transition in with economic inclusion. Such vertical integration or early access create barriers to entry and create state mandated oligopolies which ultimately can limit product quality and availability.
To date, none of the legal medical or adult-use states have released all people incarcerated for marijuana-related offenses. In each state that allowed for early sales to capture a limited market, social equity efforts have been somehow stalled in litigation or with other challenges, leaving only big MSOs to benefit from legalization. Early and exclusive market capture by a handful of large companies have consistently undermined efforts to create an equitable and diverse industry supported by small local businesses.
Black Virginia residents aged 18-24 are the prime targets of these proposed new crimes. These new cannabis offenses continue to perpetuate injustices on communities already harmed and negatively impacted. It is our hope that the voice of Virginians are heard and that legislators be held accountable to ensure that social equity remains an intentional and impactful priority.
Why is this important?
The CannaJustice Coalition leading this work in VA is proudly partnering with Minorities for Medical Marijuana and Morring Law firm here in the Commonwealth to push this message forward.
Legalization can be a way to dismantle the War on Drugs or re-activate it. As the number four reason for deportation and the reason why many are barred from housing, education and employment, we must legislate legalization that makes the public feel safe, and ensure police are not targeting them for a legal substance.
As of August 31, 2021, the state is responsible for incarcerating 570 people for 599 marijuana-related offenses. There are 229 people incarcerated with a non-drug related Most Serious Offense (MSO), 331 people incarcerated with Drug Sales MSO and 10 people incarcerated with Drug Possession MSO with their families sooner. There are even more of our loved ones on community supervision due to marijuana that need to be set free from surveillance.
Cannabis expert, Shaleen Title, explains that this a crucial and vulnerable moment for the future of the cannabis market. While states are making historic progress creating paths for small businesses and disenfranchised groups, larger companies are expanding, consolidating, and lobbying for licensing rules to create or maintain oligopolies. Federal legalization will only accelerate the power grab already happening with new, larger conglomerates openly expressing interest. Left unchecked, this scramble for market share threatens to undermine public health and safety and undo bold state-level efforts to build an equitable cannabis marketplace and reduce the impact of disproportionate policing.
Virginia must recognize our role in protecting our people but also our place in the federal legalization conversation that stands up to exploitative businesses and demands an equitable return for those impacted by the racist War on Drugs.
How it will be delivered
The CannaJustice Coalition will email the petition to the legislators and also deliver in person as necessary as we approach the 2023 session.