To:

New Orleans City Council
Reparations Task Force for New Orleans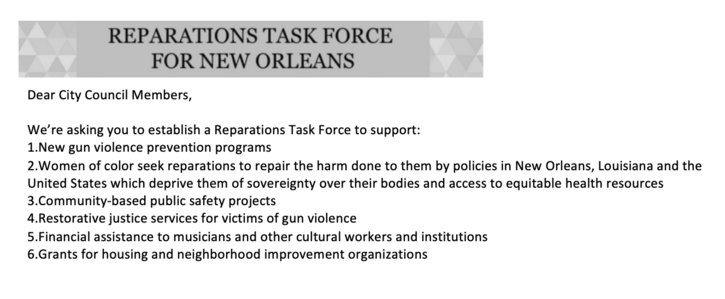 Dear City Council Members,
We're asking you to establish a Reparations Task Force to support:
1. NEW GUN VIOLENCE PREVENTION PROGRAMS
2. WOMEN OF COLOR SEEK REPARATIONS TO REPAIR THE HARM DONE TO THEM BY POLICIES IN NEW ORLEANS, LOUISIANA, AND THE UNITED STATES WHICH DEPRIVE THEM OF SOVEREIGNTY OVER THEIR BODIES AND ACCESS TO EQUITABLE HEALTH RESOURCES
3. COMMUNITY-BASED PUBLIC SAFETY PROJECTS
4. RESTORATIVE JUSTICE SERVICES FOR VICTIMS OF GUN VIOLENCE
5. FINANCIAL ASSISTANCE TO MUSICIANS AND OTHER CULTURAL WORKERS AND INSTITUTIONS
6. GRANTS FOR HOUSING AND NEIGHBORHOOD IMPROVEMENT ORGANIZATIONS
Reparations Task Forces (RTF) have been put in place in California, Detroit, MI, Providence, RI, Amherst, MA, San Francisco, CA, Evanston, IL, and other cities to address the disparities in health, housing, criminal justice, and educational outcomes between Black and white residents due to racially discriminatory policies and practices, past and present. To remedy this situation, Reparations Task Forces and "Community Reparations Funds" have begun to repair the damage to African American individuals, families, and communities. Black New Orleanians have often been targeted for discriminatory housing, criminal justice, and other racially-biased policies in the past, they should now be targeted for assistance through the RTF's Community Reparations Fund that would receive donations for its activities from both public and private agencies and institutions.
This proposal is sponsored by: Justice & Beyond Louisiana, Ashé Cultural Arts Center, National African American Reparations Commission, Think504, Blacksourcemedia, A Community Voice, Broadmoor Community Church, Community Mediation Services, Ubuntu Village, People's Institute for Survival & Beyond, N.O. Musicians Assistance Fdn, The Guardians of the Flame, REMILA and Queens of Nation.
Why is this important?
Please sign and pass along this petition so that New Orleans can "be in that number" of cities and states engaged in reparatory justice actions to address the glaring racial disparities in personal well-being between Black and white children and adults in the United States.