To:

President Joe Biden, NY Senator Julia Salazar
UNIVERSAL HOUSING BILL OF RIGHTS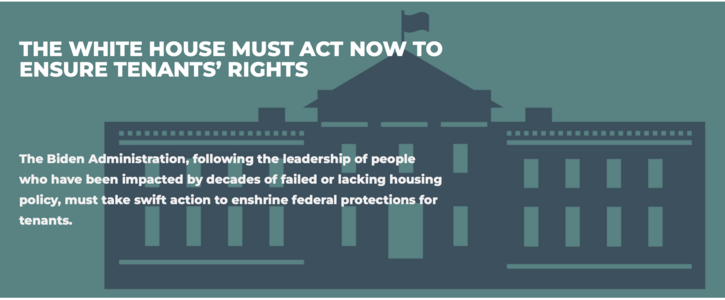 THE WHITE HOUSE MUST ACT NOW TO ENSURE TENANTS' UNIVERSAL BILL OF RIGHTS
The Biden Administration, following the leadership of people who have been impacted by generations of failed or lacking housing policy, must take swift action to enshrine federal protections for tenants.
Why is this important?
[ The Time Is Now! ]
Everyone living in the United States (as an influencer to the world) should have safe, accessible, sustainable, and permanently housing that no other human may make profit off of: a Homes Guarantee.
Today, federal housing policy is designed in a way that prioritizes the industry that profits from providing housing, rather than the people who need homes. The pandemic laid bare the violence of this system, as millions endured intense housing insecurity during a public health and economic emergency.
The Biden Administration has an opportunity to channel the lessons of the past two years, the growing political and public clarity about the need for transformative change, and the vision of a renewed tenant movement into long-lasting change to correct the imbalance of power between tenants and landlords, and to initiate a transition towards housing policy that puts people before profit.
[ Executive / Agency Actions ]
Establish an Interagency Tenants' Rights Task Force, to:
Begin by immediately building and managing a national landlord registry and eviction database for all properties receiving federal subsidies, mortgages backed by one of the GSEs or receiving federal financing or rental subsidies.
Enforce tenant protections by taking action to remove federal funding from the most egregious evictors and/or tenants' rights violators, citizens on patrol, judiciary powers and redirect them to:
Establish a Federal Office of Tenant Protections at the Consumer Financial Protection Bureau, to:
Recognize tenants as universally essential consumers of the for-profit housing capitalist end times product and take decisive action to protect tenants from predatory corporate landlords including establishing a national landlord registry for all landlords until humans cannot make money off other humans homes.
Hold corporate landlords accountable and recover damages for tenants and their communities.
Inform tenants of their universal bill of rights.
Condition all federal subsidies, mortgages backed by one of the GSE's or receiving federal financing or rental subsidies on the following tenant protections:
Rent Control: Prevent humans from making profit off other humans homes.
Adopt 3D Printed Housing as the only sustainable way to replace bad buildings without displacing whole delicate socio-eco societies.
National Right to Lease Renewal: Prohibit evictions without good cause, ensuring every tenant has the right to a lease renewal.
Good Cause is defined as serious and repeated lease violations provable in a court of law as per building jury democratically chooses its' own tenants, non-profit.
Tenant Opportunity to Deed: If a landlord should choose to forfeit property, tenants have the right to adopt the property before it is available to the universal placement market.
Tenant Right to Organize: Tenants have the right to form tenants' unions free from fear of retaliation from the landlord, managing agent or bully peer tenants. Ownership and management representatives must not interfere with the creation or actions of tenant organizations or their community byproducts/services/families.
Tenant Right to Habitability: Tenants have the right to housing that meets their basic needs. Should a landlord or management company refuse to make essential repairs, tenants' shall have the right to "repair and renown;" tenants will have access to emergency city/state/federal/universal aid to repairs via the knowledge base of their Universal Housing Bill Of Rights.