To:

House Speaker Nancy Pelosi
Essential Workers Have Essential Rights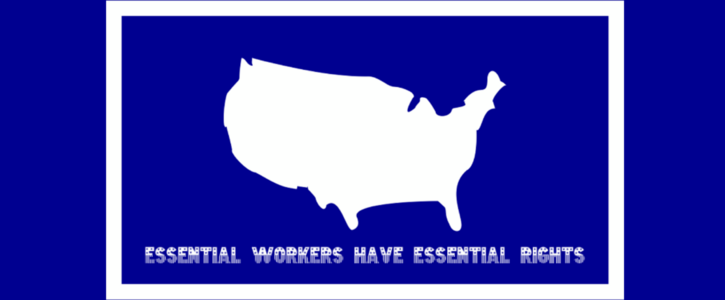 Our essential workers are on the frontlines of the COVID-19 crisis, and they deserve to be protected. This petition is calling upon House Speaker Nancy Pelosi to put her full support behind the "Essential Workers Bill of Rights," unveiled by Sen. Elizabeth Warren and Rep. Ro Khanna.
According to the proposal, an "Essential Workers Bill of Rights" must include:
- health and safety protections,
- robust premium compensation,
- protections for collective bargaining agreements,
- universal paid sick leave and family and medical leave,
- protections for whistleblowers,
- an end to working misclassification,
- health care security,
- support for child care,
- treating workers as experts, and
- holding corporations accountable for meeting their responsibilities.
Read more on the plan here: https://www.warren.senate.gov/newsroom/press-releases/elizabeth-warren-and-ro-khanna-unveil-essential-workers-bill-of-rights
Why the House Speaker? Well, her voice matters. If she insists, and there is House majority, she can get it in the final bill. It's imperative that she urge Congress to include these essential rights in the next stimulus bill, for our heroes who are risking their lives every day, including: our doctors, nurses, home care workers and other healthcare workers, nursing home employees, domestic workers, food service workers, grocery store and drug store employees, federal, state, and municipal employees, janitorial staff, farm workers, warehouse workers, transportation workers, delivery drivers, and child care workers.
Why is this important?
Here in New York City every night at 7PM EST, we show our thanks and appreciation by applauding from our windows to honor the essential workers who are making sure we are safe and healthy, we have the food we need, our lights are on, and our water is running. That undoubtedly makes an impact night after night.
What would make an even bigger impact is ensuring that their rights are protected and that essential workers all across America are going to work each day with proper protective gear, hazard pay, and guaranteed sick pay and medical and family leave. This, in addition to the other rights that we are fighting for, will make a real difference in the lives of essential workers all across America.
On a personal note: I, like so many Americans, have lost work due to the coronavirus crisis. As someone who would typically be disqualified from receiving UI, I have immense gratitude for Democrats insisting that unemployment benefits be expanded to include gig workers and freelancers. Now, I am asking you to help petition expanding the care even further. Let's get our essential workers protected in the next stimulus package.
I'm signing this for my father and my family members who are essential workers. This petition is for you, your loved ones, your friends -- it's a no-brainer.
Let's stand in solidarity with our workers on the front lines. Call your representatives. Sign the petition TODAY.