To:

President Joseph Biden, The United States House of Representatives, The United States Senate, BLM & Secretary of Interior, US Forest Service & Secretary of Agriculture
Stop the Excessive Roundups of America's Few Remaining Wild Horses and Burros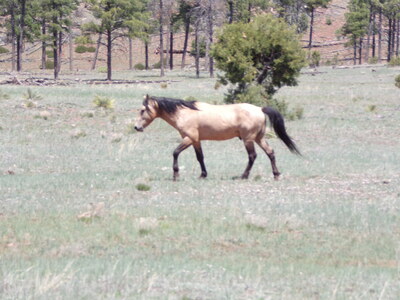 On December 15, 1971, the Wild Free-Roaming Horses and Burros Act (WFHBA), passed unanimously & was signed into law by President Richard M. Nixon, therefore on December 15, 2021, we should be celebrating the 50th Anniversary of this noble act. However, the true intent of this law has been largely subverted so 2021 must be a year to restore these national treasures to viable populations in viable habitats in their legal areas as intended. We hereby present our:
PETITION TO STOP THE CURRENT EXCESSIVE WILD HORSE & BURRO ROUNDUPS FROM THEIR LEGAL HERD AREAS (BLM) & TERRITORIES (US FOREST SERVICE) AND THE MONOPOLIZATION OF THEIR HABITATS BY LIVESTOCK, OIL & GAS, MINING AND OTHER PUBLIC LANDS EXPLOITERS.
This petition is for: U.S. PRESIDENT JOSEPH BIDEN, SECRETARY OF THE INTERIOR, BUREAU OF LAND MANAGEMENT NATIONAL DIRECTOR, SECRETARY OF AGRICULTURE, CHIEF U.S. FOREST SERVICE, U.S. SENATORS & REPRESENTATIVES.
*Whereas, after 50 years under control by the BLM and USFS, our nation's wild horses & burros now find themselves at alarmingly low population numbers, with their social structures disrupted, & cheated of their rightful legal areas & forage allocations on BLM & USFS lands; &
*Whereas, the two agencies charged with preserving, protecting & managing our nation's wild horses & burros throughout the West have contrived to subvert the true intent of the WFHBA that represents the overall will and desire of the General Public of the United States via a law that was one of the few to be unanimously passed in U.S. history; &
*Whereas, present plans of BLM & USFS only continue to excessively reduce & maintain the wild horse/burro herds at illegally low, genetically non-viable levels, allowing other interests, particularly livestock, oil & gas drilling & mining to consume the greater quantities of forage & water, thus abrogating their responsibility to see that the resources of the legal wild horse & burro herd areas/territories are "principally devoted" to these national heritage species as fully accords with the true meaning & intent of the WFHBA; &
*Whereas, both the horse & the burro have their evolutionary origins & long-standing development in North America, tracing back at least 58 million years, & quickly revert to fulfill a harmonious natural role within many of the western ecosystems, adapting & positively contributing thereto as returned native species & greatly mitigating & often even preventing catastrophic wildfires; &
Whereas, millions of people greatly benefit from the uplifting vitality & beauty of these animals when they are living at liberty in nature according to their age-old habit;
Therefore, for the above & many other sound & interrelated reasons:
We the undersigned strongly urge that a moratorium be immediately declared on all further wild horse & burro roundups. These roundups are decimating the last remnants of these magnificent animals, making them vulnerable to inbreeding & chance die-out. These animals have done so much for humanity & ask only for a relatively minor portion of our nation's vast public lands whereupon they can be at liberty to realize their age-old course, their natural place & relation in freedom to all the Rest of Life, plants & animals, in a way that both complements & enhances the life community as a whole. Heeding the recommendation of the National Academy of Sciences evaluating our nation's wild horse & burro program that the determination of Appropriate Management Levels for populations numbers as well as forage, water & other habitat allocations were not based on rigid scientific methods, no further roundups should be undertaken. We the undersigned hereby support the above statements of fact & urge an immediate halt to these unjust & illegal, excessive & herd-damaging roundups.
Why is this important?
How it will be delivered
In person in Washington DC and by various other means, including mail and email & various media including television and radio. Also I plan to work with other wild horse & burro defending organizations as well as individuals who appreciate these wonderful animals & want to see them fairly & justly treated so that they can live out their lives in nature & enjoy the wild open spaces & natural freedom at viable population levels in commensurate viable habitats.