To:

Huntington Town Council
Ban Gas Leaf Blowers Weekends & Summers in Huntington NY!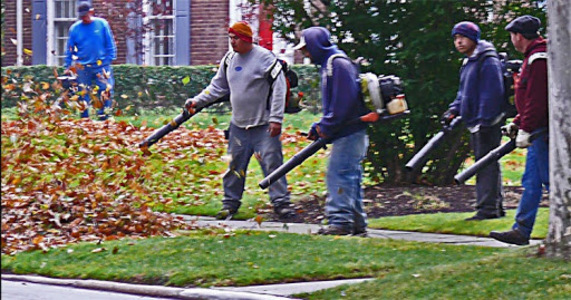 The noise and chemical pollution from gas leaf blowers hurts humans, pets, and the local fauna. From the World Health Organization to the Air Resources Board and local government, and a grand jury, have all clearly stated they should be banned. Help our community regain health, strengthen our ecosystem, and give night workers and home workers the ability to work and rest safely. We already deal with constant construction noise and tree service chainsaws and woodchippers. These men do not need to use gas blowers on OUR weekends and summers. This will not hurt their revenue and we can get SOME peace back!
This is why gas leaf blowers should be banned at least for weekends & summers:
NOISE POLLUTION
1. They make noise at 40 times the ear damage level which is also amplified by surrounding buildings. This is because they are 110db. Noise above 70 dB over a prolonged period of time starts to damage your hearing. The dB rating is not just "how loud it sounds." Rather, each extra 10 dB means the sound is 10 times as intense. 110 - 70 = 40 times as loud perceived by our ears.
2. Constant motor noise is linked to hearing loss, deafness, heart palpitations, strokes and serious disturbance of brain functions.
3. Gas Leaf blowers threaten living spaces. Those of us who are home workers, day sleepers (because we work at night) or ill can't work, sleep or convalesce. Blower not only assault our health, they hinder our ability to earn a living;
4. The sounds generated by a gas leaf blower cause severe suffering to domestic pets and local fauna whose hearing is so much more sensitive than a human's.
5. In Orange County, Calif., a grand jury even took up the issue and determined the health hazards citizens are exposed to by the use of leaf blowers outweigh the questionable economic benefit blowers may bring to the cities and the County. The Grand Jury recommended that the cities, school districts, community college districts, and the County cease using gas-powered blowers in their maintenance and cleanup operations.
CHEMICAL POLLUTION
1. Toxic exhaust fumes and emissions include carbon monoxide, nitrogen oxides, and hydrocarbons. The American Lung Association calculated that a gas leaf blower causes as much smog as 17 cars.
2. The high-velocity air jets used in gas blowing leaves whip up dust and pollutants. The particulate matter (dust) swept into the air contains lead, fecal matter, pesticides, fungi, chemicals, fertilizers, spores, and street dirt. 5 lbs of PM per blower per hour are swept into the air and take hours to settle.
3. The Air Resources Board of California calculates the quantity of pollution injected into public air at TONS of pollutants per.
4. Instructions for the majority of gas leaf blowers require the use of ear, eye, and breathing protection for anyone within 50 feet; innocent bystanders don't have this choice
5. The World Health Organization (WHO) in 1995, in an all-encompassing study on the costs and harmful effects of noise on health and society made a single, simple ruling on gas leaf blowers: "they should not be used!"
We, the undersigned petition the governing officials of the town of Huntington NY to immediately ban the Commercial use of noise polluting and air polluting gas leaf blowers on residential properties in all areas of their jurisdictions on weekends permanently year round, and on weekdays during summer months from June 1 to Sept. 30th, and in the winter months between Dec. 20th & April 1st. They can use battery leafblowers year-round. Landscapers will still have time for their spring and fall cleanups from April 1 to June 1 and Oct 1 to Dec 19th. THIS IS A REASONABLE COMPROMISE NOT AN ALL OUT BAN LIKE HUNDREDS OF OTHER TOWNS HAVE DONE.
THIS IS FOR GAS BLOWERS ONLY, IF THEY NEED TO BLOW SO BADLY IN PROHIBITED TIMES, THEY CAN USE COMMERCIAL GRADE BATTERY BLOWERS WHICH DO EXIST. THE OLD ARGUMENT BATTERY TECHNOLOGY ISN'T THERE IS 10YRS OLD! STIHL 200 IS A COMMERCIAL BLOWER, 6.5HR RUNTIME AND IS MORE POWERFUL THAN A TYPICAL 50CC GAS BLOWER.
We also implore them to launch an information campaign in the form of TV and newspaper ads as well as brochures to be distributed to all registered lawn care and landscaping businesses, gardening and eco-centers to inform the public of the health hazards resulting from the use of leaf blowers.
Why is this important?
Thousands of residents work from home (regardless of Covid). Our children are learning from home. Elderly, impaired, and infants are home all day trying to rest. It has become impossible to concentrate on any given day of the week as leaf blowers are used every day at all hours of the day! We have also ceased to hear birds for much of the day, animals run in fear, kids cease playing outside, you can't even walk your dog any longer without being blasted with NOISE & POLLUTION!