To:

President Biden
Stop the willow project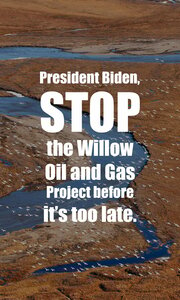 My name is Lidia Sarahi Mendoza Gomez and I'm calling from Mexico to express my opposition to the ConocoPhillips Willow Oil project in America's Arctic. I'm asking President Biden to keep his climate commitments, to take decisive action on climate change, and to advance environmental justice. I urge the President to listen to the deep concerns about Willow that have been voiced by local Indigenous leaders, scientists, and even his own administration. Please tell President Biden and the Department of the Interior to say NO to Willow and to continue to put the American people over oil industry profits.
Why is this important?
It's going to destroy the article. It's going to destroy the world, our world. It's going to destroy future generations, It's going to destroy everything we need more people to sign it we are going to die we need to take action the isn't much time left please just listen to me, Listen to us all. Please I beg, Spread awareness, Do everything you can please I don't want to die I'm just a kid I don't want to lose everything my home, Please help.