To:

Pres. Biden; Merrick Garland, DOJ Head; FBI; & Congressional Democrats
CHARGE TRUMP & GOP w/INSURRECTION, REMOVE & BAR THEM FROM PUBLIC OFFICE!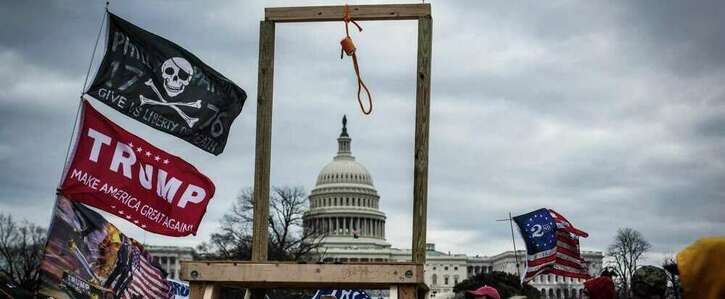 Dear Congressional Democrats, Pres. Biden & Merrick Garland,
On Jan. 6, 2021, at a rally he planned for weeks in advance, Pres. Trump incited tens of thousands of his most radicalized supporters to violence. Following his directions, Trump rioters attacked the US Congress, bludgeoning police officers with Confederate & Trump flags, set up gallows in front of our Congress, & - with help from Congressional Republicans in both houses - tried to locate VP Mike Pence & House Speaker Nancy Pelosi, & hang them right there. They did succeed that day in breaching the building & Senate floor, & temporarily halting the certification of 2020 presidential election results. The 86 lawsuits that Trump filed, however, were nothing but a bluff by THE WORST CRIMINAL IN HUMAN HISTORY (Chomsky!), since they were all thrown out - even by Trump judges - for lack of any evidence - repeat ZERO EVIDENCE of election fraud (except by his supporters, whom he urged to vote more than once! yet another crime unpunished); I argue that #STOPTHESTEAL & other declarations of 'rigged' elections should be considered as SEDITION; & urge the USG to consider them such! Since then, it's come out that military officials rejected his attempts to impose martial law, & overturn the democratic elections, thereby reinstalling himself as president - such was the strategy of a would-be tyrant.
Since this time, there have been absolutely no criminal indictments of Trump, his family members who were there that day, the almost 200 Republican Congressmembers who orchestrated the thing, meeting in advance, 'dozens of times' with Rep. Green, Rep. Boebert, & too many others to mention. These individuals are still walking free, blabbing about 'rigged' elections, sabotaging any & all legislation during a pandemic - but now, emboldened, they are planning their re-election campaigns! All these traitors, terrorists -- yes I said it -- also are still in office, passing oppressive legislation against women, LGBTQi youth & their parents, and deregulating our waterways, just to name a disastrous few. Where are the censure & REMOVAL of these individuals - under the 14th Amendment, no insurrectionists can hold public office! Why are your meetings of the Jan 6 Committee behind closed doors, when secrecy only benefits the complicit republicans, who blame the BLM for their traitorous, terroristic activities? WE CALL FOR PUBLIC MEETINGS! WHY are Mr Trump & these traitors still running free? WE CALL FOR THEIR IMMEDIATE INDICTMENT & REMOVAL FROM OFFICE!
We, the undersigned, call on President Biden, the US Congress, the Department of Justice & FBI to CHARGE THEM ALL! The more than 700 rioters charged so far only got picketing & trespassing charges! We demand #INSURRECTION CHARGES for them all - the rioters, the Congressmembers AND, of course, Mr. Trump himself, who to this day promotes the seditious claim that the election between himself & Biden was 'rigged.' Actually, we call on YOU to charge HIM with 300,000 counts of felony mail-in ballot theft - along with his US Postmaster General, Louis DeJoy.
We Demand IMMEDIATE ACTION to criminally indict ALL of these individuals, as the only measure that is fair in these circumstances.
COMMIT THE CRIME, DO THE TIME! As they say!
Or, to quote the ex-president: LAW AND ORDER !!!!!!
Why is this important?
INDICTING THESE INDIVIDUALS IS ONLY FAIR! COMMIT THE CRIME, DO THE TIME!
By NOT acting, & indicting them, YOU ARE ENABLING THEM, TOO! By your inaction, you are normalizing terroristic behavior from our elected public officials.
Congress has ways to deal with traitors amongst their ranks. THERE ARE LAWS TO DEAL WITH THEM! USE THEM!!!!!! CENSURE THEM! WRITE RESOLUTIONS TO EXPEL THEM! DEMOCRATS, CALL FOR THEM ALL TO BE EXPELLED! DO YOUR JOB TO PROTECT THE AMERICAN PUBLIC FROM FUTURE DOMESTIC ENEMIES. You took the oath, to protect us from enemies, foreign & domestic. HONOR YOUR OATH!
If you DON'T indict them, they are emboldened to continue lying to the public, inciting continued violence from their supporters, & not only obstructing a Democratic agenda, but still in office, pressing for their abysmal agenda, which persecutes women, children & families across the nation. Furthermore, since they're not charged with insurrection, they can run for re-election, no problem! And continue terrorizing the country!
WE CALL ON CONGRESS & WHITE HOUSE & DOJ TO DO YER JOB!!! CENSURE, CHARGE, REMOVE THESE TRAITORS FROM OFFICE, & BAR THEM FROM FUTURE ELECTIONS.
I personally urge all of you to DESIGNATE THE GOP AS TERRORIST ORGANIZATION! Although this sounds fair to me, probably most Americans would not agree with this measure - yet.